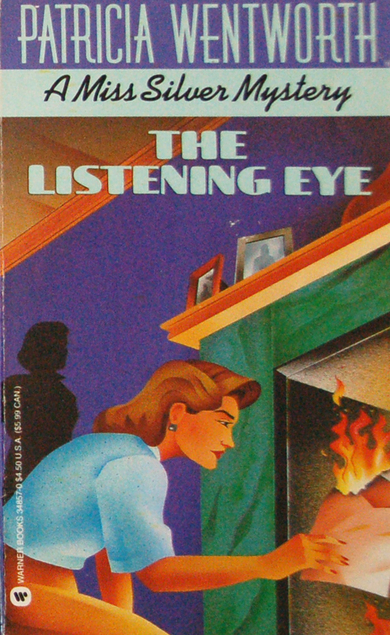 The Listening Eye by Patricia Wentworth is a Miss Silver mystery and it was first published in 1957.
Miss Paulina Paine is 57 years old and she has been stone deaf ever since a bomb fell very close to her during the war. Paulina taught herself lip-reading very successfully and she hopes it isn't obvious to people that she is deaf.
However, one of her lodgers is an artist and he has painted her portrait which is being exhibited in a gallery. The artist has titled the portrait The Listener and Paulina has to admit to herself that he has captured an expression on her face that she recognises.
Whilst at the exhibition Paulina lip reads a man who is standing quite far away from her, he thinks that his conversation will be private, never suspecting that a lip-reader was 'eavesdropping' on him.
Paulina is aghast at what he has said and quickly leaves the gallery, but when a gallery worker mentions to the man that Paulina is a marvellous lip-reader it puts Paulina's life at risk. She has inadvertently obtained dangerous information.
As it happens Paulina has a loose connection with Miss Silver and she goes to ask her advice on what she has 'overheard'. So begins Miss Silver's involvement in the investigation.
As ever I don't want to say too much about this one as I don't want to spoil it for any possible readers, but it's a good mystery and Miss Silver sorts it all out, whilst knitting a pale blue shawl, multi tasking with class.