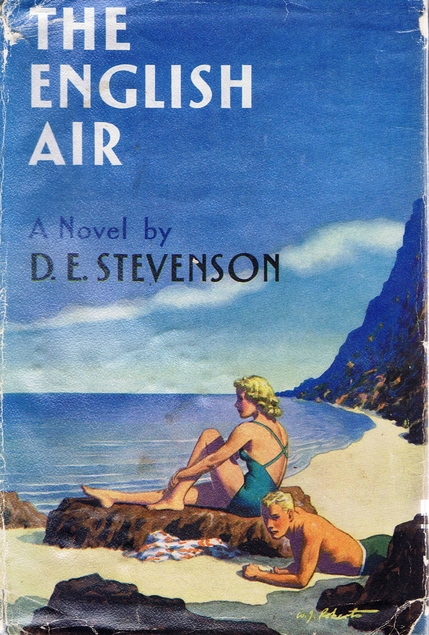 I realised recently that the reserve stock books in Fife's libraries are now available to borrow after being unavailable for a few years due to the refurbishment at Dunfermline, so I requested a couple of old D.E. Stevenson books from the catalogue, I'm not sure if they have been reprinted recently. She was of course born in Edinburgh and was related to Robert Louis Stevenson.
The librarian seemed quite amused that I was borrowing these books – more fool her! The English Air turned out to be a great read, first published in 1940. The setting is mainly England although the story does take us to Scotland a few times and to Germany briefly.
Sophie Braithwaite is a well-off widow, living in a house big enough to allow her brother-in-law to inhabit his own wing. She has a grown up daughter and son and they're waiting on Sophie's sister's son Franz to arrive, he is half German and has been brought up by his father in Germany, his mother died young. It's 1938, a time when Neville Chamberlain was going backwards and forwards between London and Munich, trying to avert war. He was criticised for this 'appeasement' but in reality it gave us breathing space and a year to 'tool up' for war. Something that Nazi Germany had been doing for the previous five years.
I really enjoyed The English Air, Franz becomes part of his cousins' social group, their sense of humour is often a mystery to him, he's really very German as you would expect, especially as his father is a Nazi. But as Franz becomes more comfortable in the free and easy atmosphere of Britain he begins to see the advantages of not having to look over your shoulder all the time as Germany is being ruled by fear and violence.
I suppose this is a bit of propaganda, the lesson being that not every German is a bad German. It's not surprising that writers all wanted to write their own book about the beginnings of the war. I seem to have been reading a lot of them recently and bizarrely I always find that scenario to be a bit of a comfort read, this is one of my favourites by D.E. Stevenson so now I'm keen to read her other wartime books. The other one of hers that I borrowed was Vittoria Cottage, published in 1949. I'll be chatting about that one soonish.