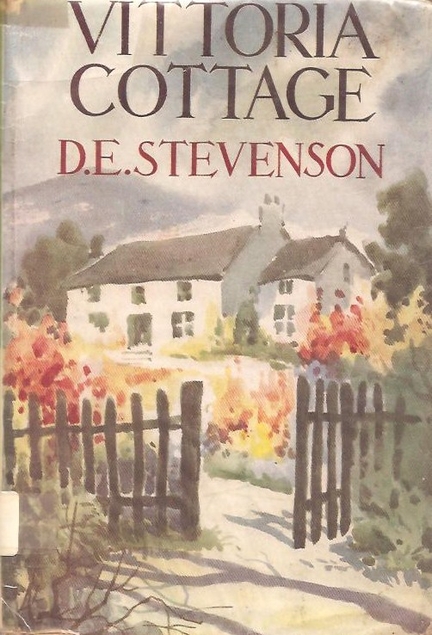 Vittoria Cottage by D.E. Stevenson was first published in 1949 and the blurb on the back of this 1968 library copy says: It is a family novel, and few writers can do this sort of thing better than Miss Stevenson, in which there is a thread of suspense enough to keep the reader guessing to the end. GLASGOW HERALD
That says it all really but if you want to know a bit more – Vittoria Cottage has been in the Dering family for generations, but the most recent owner has died and left his wife Caroline and three children as the inhabitants. The husband was a moaning grump, always feeling sorry for himself so he's no loss and it's a comfortable life for Caroline, especially as she has help with the housework from an adoring villager with the wonderful name of Comfort Podbury. Caroline's two daughters and son are young adults, the son being in Malaya in the army fighting bandits/terrorists.
Caroline is completely honest with herself, she adores her son whereas her daughters are just daughters and Leda in particular she dislikes a lot, she's too much like her miserable father. When Leda gets engaged to a young neighbour Caroline knows it isn't for the best but there's nothing she can do about it.
Meanwhile there's a new man in town and Caroline likes him – a lot, although he's a bit of a mystery. Things get more complicated when Caroline's actress sister turns up.
With a cast of villagers providing some more interest and tension this turned out to be an enjoyable comfort read.
This seems to be the first of a few Stevenson books featuring the Dering family so I'll have to track down the others, luckily Fife libraries seem to have quite a lot of her books in their Reserve Stock. No doubt they held on to those ones as she is a Scottish author.