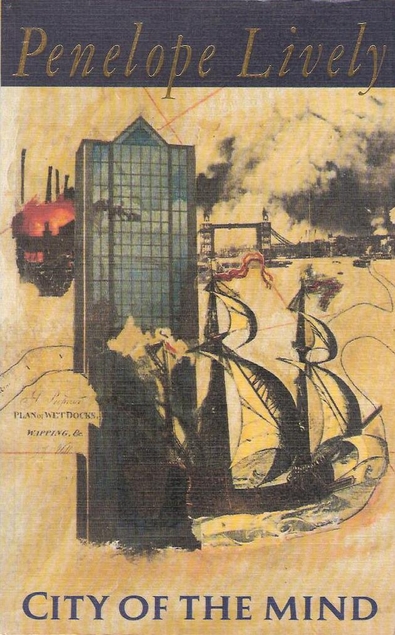 City of the Mind by Penelope Lively was first published in 1991 and the setting is London where the Docklands area is undergoing massive changes with large buildings going up everywhere. The development has more or less torn the heart out of the place, that's something that Matthew Halland recognises but he's one of a firm of architects who have a huge project there in the shape of a vast turquoise glass building.
They're also renovating a Georgian terrace and so he has a foot in the past and the present – in more ways than one because he has split up from his wife, they have a nine year old daughter and his thoughts keep flitting back to a time when he was besotted with his wife. When did it all start to go wrong? They both seemed to just fall out of love for no apparent reason now he has become aware that there's something missing in his life, he has a void to fill.
At one point he inadvertently gets involved with a completely immoral developer, a hark back to the days when property owners used to use dirty tactics to rid their buildings of poor tenants, I suspect that that never has gone away though.
Matthew takes his daughter out every Saturday, to the various museums in London and he's always amazed by the questions she asks, quite philosophical really and he's proud of this daughter who obviously likes to think. He's discovering just how intelligent young people can be, something he might never have done if he hadn't split up from his wife in my opinion.
I've read quite a lot of Lively's books now and have always enjoyed them. This one is a bit of a love letter to London I think, both past and present. A very enjoyable read.
I have some of Lively's books for children in my TBR pile and I'll be reading one soon – for Halloween probably!