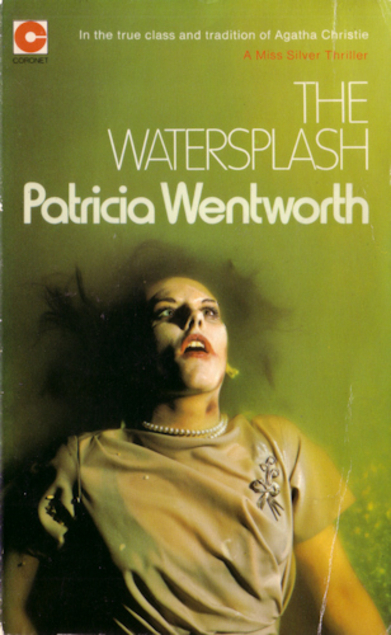 The Watersplash by Patricia Wentworth was first published in 1954 and it's a Miss Silver mystery. Wentworth is so skilled at conjuring up the atmosphere of a small English village, and the way that so many of the inhabitants are linked to each other – by blood, marriage and extended family friendships. Throw in a local telephone system where everybody has a party line and can listen in to their neighbour's conversations and a huge capacity for gossip as a way of brightening up what is generally a boringly quiet life and you have a good recipe for a mystery.
Edward Random has just returned home to Greenings after a five year absence during which time his father (the local squire) believed him to be dead. Edward's father had changed his will in favour of his brother Arnold, so his nose was very much out of joint when he realised his nephew was still alive. Everyone expects Arnold to give up his inheritance to Edward, but he has no intention of doing that, in fact he won't have anything to do with his nephew.
Rumours abound – what has Edward been up to during his five years of absence? When there's a murder in the village Miss Silver is asked to investigate. Luckily she had already been invited to stay at Greenings by the daughter of an old friend and it's not long before she's getting submerged in everybody's business.
Whilst she knits a succession of pale pink baby vests she gets to the bottom of it all satisfactorily. I had a fair idea who the perpetrator was but that didn't detract from my enjoyment. I really think I prefer Miss Silver to Miss Marple. I believe the two characters were 'born' in the same year. Patricia Wentworth just seems to have been unfortunate that Agatha Christie's books were much more of a commercial success. Maybe Patricia Wentworth should have indulged herself with some sort of adventure that was taken up by the tabloid newspapers the way Christie did!