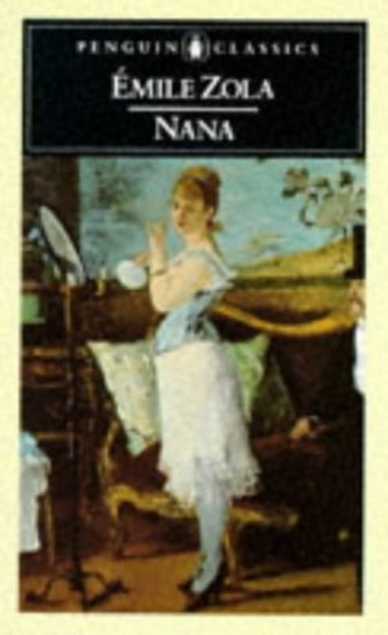 Nana by Emile Zola was first published in 1880 and it's part of his Rougon Macquart series which I've been reading completely out of order. There's a list on Goodreads which recommends the order they should be read in, you can see it here. I'm not sure if it makes a huge difference to the enjoyment of the books.
Bluntly, this book is about prostitution and the part it played in French society of the Second Empire, particularly in Paris. Nana is the main character and in the beginning she's a new girl in a theatre, her first experience on stage didn't go well at all, she couldn't sing, but she had the wit to realise that a lack of talent wouldn't be a problem for her, she had a great figure and she was more than happy to show it all off, with just a very thin gauze veil for cover.
The men are agog, so are a lot of the women, and Nana goes from being a penniless unknown to being the toast of Paris, in some circles anyway. She's a manipulative and totally dishonest tart who as time goes on becomes more and more out of control. The wonder is that the men involved with her were happy to put up with her nonsense, but there's nowt as queer as men when it comes to sex it would seem!
Apparently Zola did a lot of background research for this book and he even managed to get a peek at a very ornate and expensive bed of a famous Parisian courtesan, and he based Nana's bed on that one. As ever Zola's descriptions light up the book but I didn't enjoy it as much as the others of his that I've read. Zola wanted to compare Nana's destructiveness with that of the French Empire's disintegration which came in 1870.
Zola did set out to show how hereditary weaknesses affected various members of the families in this series and Nana's personality is completely out of control, self-centred and destructive. She's a nutter, one of those women who should have 'dangerous to everyone' stamped on her forehead. She's smart though, much wilier than everyone else and has the unusual (for that society) tendency to kindness when others are in despair.
This one was on my Classics Club list.
Have you read Nana? What did you think of it/her?
The cover of my Penguin Classic shows 'Nana' painted by Edouard Manet.