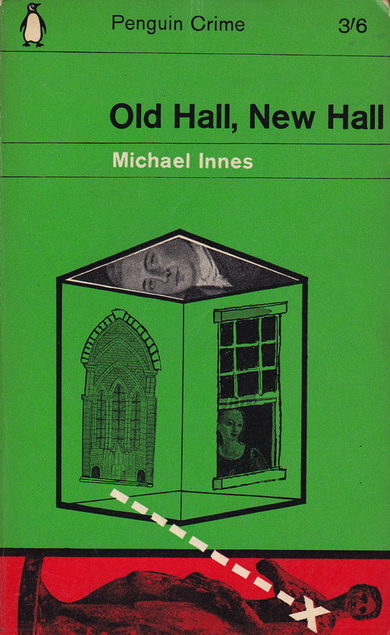 Old Hall, New Hall by Michael Innes was first published by Gollancz in 1956 but my copy is a 1964 Penguin Crime paperback.
I'm one of those readers who prefers my vintage crime reading to be of the sort where a crime takes place almost immediately. I was to be severely disappointed by that aspect of the book as the author spent an awful lot of time 'vamping til ready' – as I call it. Despite that I did enjoy reading this book, I just think that it was wrongly marketed. Michael Innes also wrote under the name J.I.M. Stewart and those books tend to be the ones that are set at a university, in his day job he was a professor of English literature at various universities, ending up at Oxford.
Colin Clout is a young unemployed academic, desperate for work. When he goes back to his old college his luck seems to have turned immediately as he meets Olivia a fabulous looking girl, and then his old professor offers him a chance of the Shufflebotham Fellowship (there are a lot of odd names in this book).
The university is quite a new one and the buildings had belonged to a local landowner originally and some of the previous generations of the Jory family had been rather strange. They now live nearby and it's thought that there might be some treasure buried somewhere around Old Hall's grounds. It turns out that the gorgeous Olivia is distantly related to the Jorys and she thinks that her branch of the family have been done out of the treasure – if indeed it exists.
One character is mentioned briefly twice – a deceased dotty Aunt Elizabeth who had apparently been under the impression that she was a barouche landau carriage! She spent her time attracting the attention of gentlemen she judged to be likely to be skilled with reins. What a scream, I so wish she had had a higher profile in this book.
I kept waiting for a crime to occur – as it's a Penguin Crime paperback, but it never did.