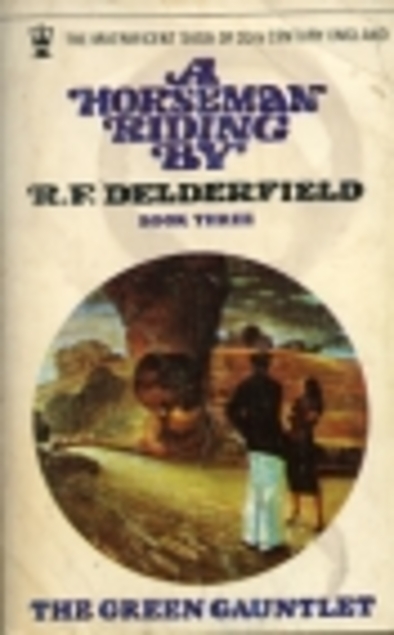 The Green Gauntlet by R.F. Delderfield is the last book in The Horseman Riding By trilogy and was published in 1968.
When this book begins World War 2 is still ongoing and although there have been sorrows it hasn't been nearly as bad for the inhabitants of the Shallowfield valley as World War 1. Many are making a mint from the black market in food and the few valley inhabitants who went off to the war aren't doing nearly as badly as the previous generation did in the trenches. However stray bombs have ended up landing in some of Paul Craddock's fields, the civilians are having a worse time than the combatants are.
Paul is now in his 60s but he has always looked after himself and he and his wife Claire are young at heart, in fact Claire at the age of 50 had unexpectedly presented him with her sixth and last child, a son. I found that a bit unlikely as I've read that 48 is about the oldest that you can give birth to a healthy child. Another character manages to give birth at the age of 52. If any of you know of any natural births in such old mothers I'd be interested to hear about them.
Anyway back to the book. It's a great read but with the end of the war comes change and not for the better as Paul discovers too late that many of his children can't be trusted with the land that he has poured his life into, and post-war development is spreading ever nearer his property. Shady land deals and dodgy local councillors as well as a need for new housing are changing the whole area.
There's a bit of a disaster but it's not all doom and gloom and in the end there's a lot to be optimistic about. I really loved this trilogy.