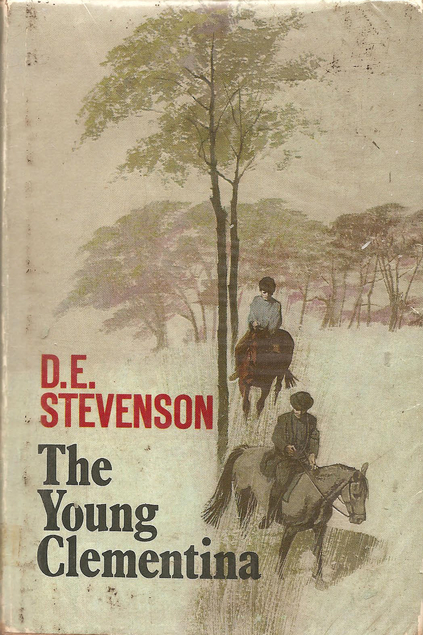 The Young Clementina by D.E. Stevenson was first published in 1935 and the story is told in three parts. It's told by Charlotte who is working in a library in London which isn't exactly heaving with life and fun. She's really very lonely and scrapes along on very little money, it's all very different from what she expected from life when she was younger. She had been engaged to Garth and so had been destined to be the 'lady of the manor' but Garth had to go off to World War 1 and when he came back he was a very changed man.
A lack of communication from both sides leads to the end of their relationship, but twelve years down the line Garth comes back into Charlotte's life, asking her if she will go to live in his home to look after his young daughter who is Charlotte's god-daughter, while he goes off exploring. Charlotte is in two minds about it, mainly because she knows that after a year or so of comfort and servants in beautiful surroundings she will find it much more painful to return to her dismal poverty stricken existence.
Charlotte eventually discovers what had changed Garth's attitude towards her and there's a happy ending. I really enjoyed this one which has a good mixture of mystery, romance, lovely rural descriptions and social commentary with the ludicrous situations that couples had to get into in order to get a divorce back in the 1930s when the book was written.
Attitudes change over the years, however I was absolutely shocked when a male character in this book in all seriousness declared his love for a thirteen year old girl, the man was much older, old enough to be the girl's father. But Charlotte wasn't fazed at all and just asked him to wait four years!! Had I been Charlotte I would have beaten him off with a brush! In fact I might have informed the police. How times change.
D.E. Stevenson was of course a Scottish author and Robert Louis Stevenson was her second cousin.