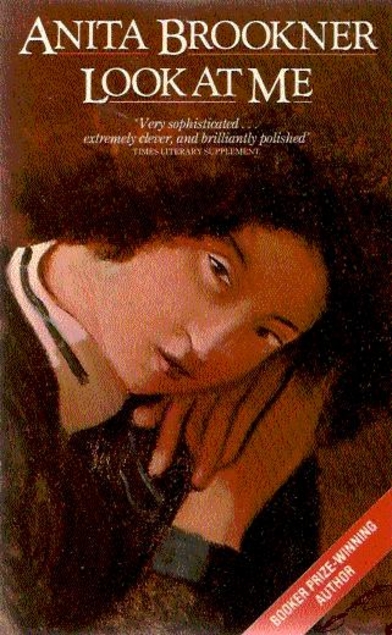 Look At Me by Anita Brookner which was first published in 1983 is only the second book by the author that I've read – the other one being Hotel du Lac of course.
This isn't a comfortable read and indeed there were many times when I wanted to give Frances – who is telling the story – a right good shaking! Frances has ambitions to be a writer but meanwhile she works in the reference library of a medical institute which is of course frequented by medics. One of them Nick – is your typical entitled type, tall and handsome, he's untidy and leaves everything for others to clean up after him and generally treat him as the something special that he believes he is, and Frances is happy to pander to him. He's married to Alix who is a very similar type, except she's always moaning about how she has 'come down in the world'. Her father had been bankrupted.
Alix and Nick end up taking Frances up, much to her delight and she ends up spending a lot of time with them. Nick and Alix are the type of couple who need to have an audience rather than just being in their own company – always a danger. They're also very jealous of the very large central London flat and money that Frances has inherited from her very wealthy parents.
Alix doesn't work and she's obviously bored, she enjoys manufacturing arguments with friends, particularly Maria and eventually Alix is thrilled when she realises that Frances has taken up with Nick's friend James as she had planned. But Alix wants to know all the ins and outs of the relationship, something that Frances isn't willing to talk about. Alix isn't happy that she's being kept out of that relationship and doesn't have much scope for her manipulative nonsense. It's inevitable that she's going to throw a spanner in the works – just to get back at Frances. Frances seems to think that all of her experiences are good copy for any subsequent writing that she'll publish.
This is a frustrating read as Frances is so slow to see what is going on, and even when she does realise she still isn't enraged as she should be. This is similar to Barbara Pym's writing – sad and lonely people abound – and of course it features a library.
The Times Literary Supplement said about it: 'Very sophisticated extremely clever, and brilliantly polished'.
I really dislike the cover of my edition. It's a detail from a 1928 painting called Portrait de Madame Rita van Leer by Andre Derain.