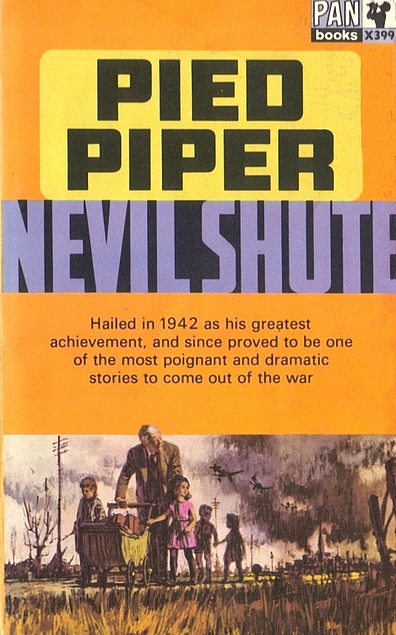 Pied Piper by Nevil Shute was first published in 1942 and the subject is World War 2, I generally love books about the war that were written at the time, and I loved this one.
The story begins in a London club where an air raid is in progression. Two members get into conversation, John Howard is 70 years old and he tells the much younger club member – a naval officer – of his recent exploits in France. John Howard had gone to France to have a fishing holiday but to his horror the Nazis began their unbelievably fast march through European countries and before long they were in France. John had to get home to England – fast. But a couple of English guests in his hotel ask him if he could take their small children with him when he goes back home, they think that will be much safer for them. The children's parents are diplomats and intend to travel to Switzerland on their own.
Things start to go awry almost immediately when one of the children falls ill and so begins a suspenseful journey with John Howard gathering more children along the way and having to join the vast numbers of refugees on the roads as the Luftwaffe bombed and strafed them. What should have been a simple train journey home to blighty turns into a complete nightmare when the trains are unavailable as the French army runs from the advancing German army.
Considering the subject matter I can hardly believe that it has taken me so long to get around to reading Pied Piper, I think I enjoyed this one even more than The Chequer Board which had been my favourite. I now want to tread his book Most Secret (1945) as it also has a wartime plot. Have any of you read that one?
I had to laugh at the author's portrayal of the French rural/country people as being money grabbing and avaricious – nothing changes, that has been exactly our experience of them over the years on various holidays.