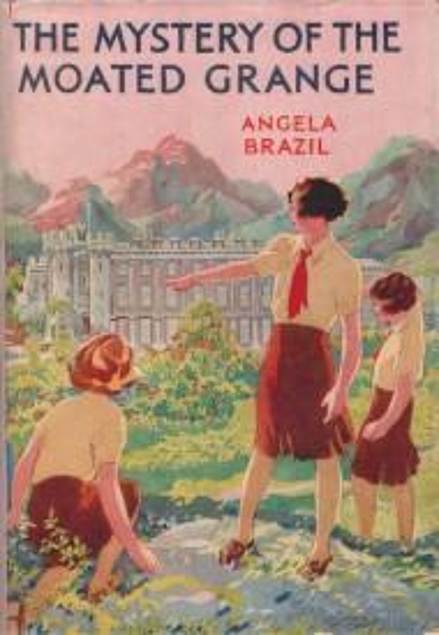 The Mystery of the Moated Grange by Angela Brazil was published in 1942 and World War 2 does feature in it as the tale opens with the Bevan family enjoying a last hour together before Captain Bevan goes off to rejoin his regiment. Captain Bevan had had a week long leave but he had to spend so much time in London with solicitors that the time had gone so quickly. The upshot of that is that he has inherited an estate from an elderly uncle – if the uncle's estranged son doesn't turn up to claim it. It's thought that the son must be dead.
Maenan Grange is a moated property in rural Herefordshire and it has just been rented out to a boarding school which has been evacuated to the safety of the countryside. The two Bevan girls are enrolled at the school while Mrs Bevan becomes a sort of custodian of the house. It's an awkward situation for Mrs Bevan and the teachers who really don't want the owner of the property looking over their shoulders. The older son of the family is sent to a nearby boarding school for boys.
The Bevan children are very impressed with their new home, but they know there's some sort of mystery surrounding it as they overheard their father saying something was a gamble. The Bevan sisters, Marian and Hilda find it difficult to make friends with the schoolgirls, Marian is particularly aware of her status as the daughter of the owner of the grange, and is a bit stand-offish with the other girls for that reason.
The possibility of the grange being haunted and a hint of lost treasure make this one seem like a cross between an Angela Brazil and an Enid Blyton, but it's an entertaining light read for pandemic times.
If you fancy having a read at an old-fashioned school story have a look here at the Angela Brazil books available free from Project Gutenberg. This book isn't available free as it's one of her later books. She had a very long career which began in 1899 and ended in 1946, she died in 1947.