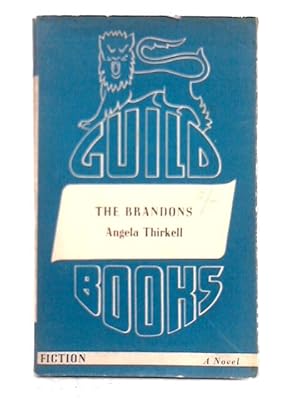 The Brandons by Angela Thirkell was first published in 1939 and this was a re-read for me which is something that I don't do all that often, well I have so many unread books to get to, but as I read this Barsetshire series out of order originally I've always intended to re-read them all again in the correct order. I must say that it was a real treat to be back in Barsetshire, absolute comfort reading which was just what I needed.
The Brandon family consists of Mrs Lavinia Brandon, her daughter Delia and son Francis. Mrs Brandon was widowed early on in her marriage and she seems to have found her situation to be a comfortable one, she has a lovely home and no money worries, she writes popular books. Her long dead husband is used to express what she claims would be his disapproval now and again. She's regarded as a bit of a silly fool and admits to that but in reality she's often surprisingly astute.
Mrs Brandon's very elderly and wealthy Aunt Sissie has been on her last legs for years but now she's bedridden and is concerned with her will. She's threatening to leave everything to Francis, but another relative has appeared on the scene. Cousin Hilary Grant is unknown to the Brandons but when they all meet they get on well and as neither Francis or Hilary wish to inherit 'Nightmare Abbey' Aunt Sissie's will holds not a lot of interest for them. They all feel sorry for Miss Morris though, she has had the job of looking after Aunt Sissie and it obviously isn't an easy task.
As you would expect from a Thirkell book there's a lot of silly chat and snobbery and I find that amusing but not everybody appreciates that sort of thing. The editor and author Diana Athill seems to have really despised Thirkell's books – and the sort of women who read them, but maybe she just didn't have much of a sense of humour!