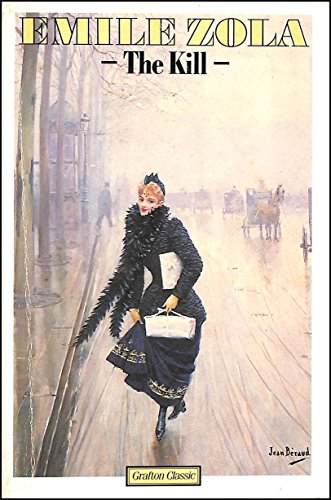 The book that I got in the Classics Club Spin is The Kill by Emile Zola which was first published in 1872 and it's the second book in his Rougon Macquart series. I think this is about the fifth book in that series that I've read and it is the one that I've liked least. However it's one of his earliest books and he obviously improved with maturity.
The setting is Paris 1852 and Aristide Rougon has gone there having left his native Provence. He hopes to get help from his older brother and eventually he does get a job with his help, he's a surveyor of roads. It isn't really what he was looking for but he realises that the work gives him access to important city planning decisions and this means that he can take advantage by buying up tracts of land that he knows will be needed in the rebuilding of the new Paris. He'll make lots of money when the land is bought from him by the city.
Aristide is a born wheeler dealer and when his wife dies he marries Renee a young woman from a wealthy family. She is already pregnant and needs a husband. Aristide can use her money for his business dealings, but although Renee is much younger than Aristide and is very pretty, he isn't really interested in her, she's just a business deal as far as he is concerned. They both have affairs and Renee eventually ends up having an affair with Aristide's son by his first wife. She spends a fortune on her clothes and has to borrow to pay some money towards her debts. Meanwhile Aristide realises that he isn't such a brilliant businessman as he thought he was.
The subject matter of massive greed, waste and infidelities didn't appeal to me and the book is very overwritten. I like descriptions but there are far too many of them in this book – too many adjectives, too much purple prose.
They say that writers should always write about what they know but Emile Zola was writing about a society that he knew little about and he apparently got all of his information from the society pages of the Paris newspapers. Of course they described the dresses and jewellery that were worn at balls and Zola must have felt the need to do the same. I got to the stage where I was thinking – 'please – no more satin, lace and bows!'
I'll definitely be continuing with this series though.