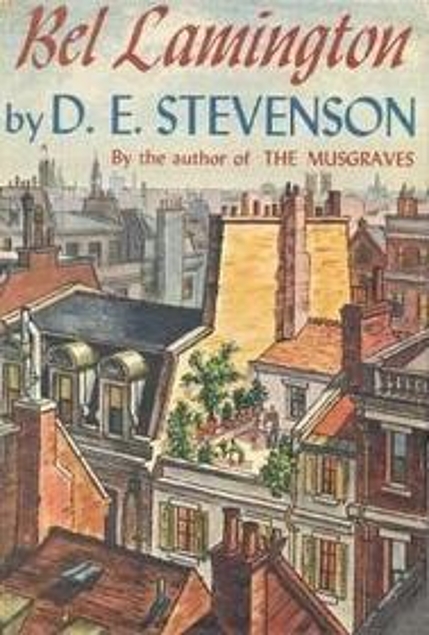 Bel Lamington by the Scottish author D.E. Stevenson was first published in 1961 and to begin with the setting is London although it does move on to the north of Scotland later.
Bel has been in her tiny London flat for 18 months but she doesn't know any of her neighbours, she had had to move to London to find work after her aunt had died. Her parents had died long ago when she was a small child, so apart from her work in a shipping company the only joy in Bel's life is her small garden which she has cultivated in containers on a flat roof outside her living-room window. So when she comes home from work one summer evening she's not best pleased to discover that a strange young man has invaded her wee patch of heaven. It turns out that Mark is an artist, quite a good one and he wants Bel to model for him, which she does, but Mark turns out to be a bit of a flibbertigibbet.
Meanwhile things at Bel's work aren't going well, she lives in fear of losing her job as she has no money to fall back on so life is stressful, especially when the women who have been working there for years take a dislike to her. Well, she had been promoted over their heads so that was bound to cause friction. Things come to a head and Bel ends up travelling to Scotland to spend time with an old schoolfriend and her father. The Thames-Clyde Express takes her to Dumfries in south-west Scotland where Bel's life takes a turn for the better.
This was an enjoyable read, especially when the story moved to Scotland, but I thought that the London workplace stresses and office were very authentic. I knew eventually there would be a happy ending and that's the sort of book that I'm drawn to at the moment.