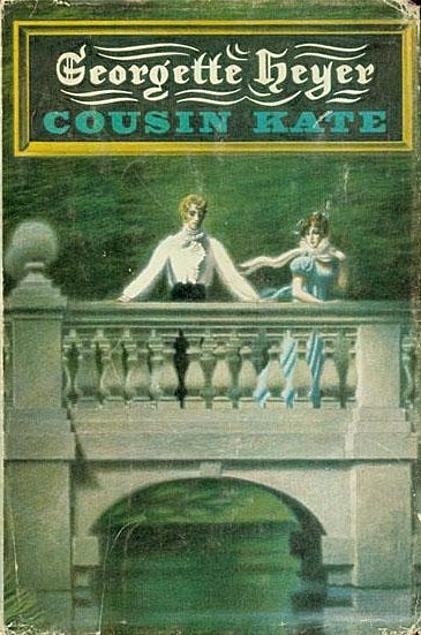 Cousin Kate by Georgette Heyer was first published in 1968, so it was the third last of her books and for me it seemed quite different from her other romances. The actual romance part was more or less over by around the middle of the book, and there was a distinct lack of the witty repartee that I enjoy so much about her dialogue.
Kate Malvern has been brought up 'following the drum' as her father had been a professional soldier, her mother had died young, so Kate isn't your average Regency lady. She has had to work as a governess to support herself and when she loses her job she has to move in with Mrs Nidd who was her nursemaid.
Sarah Nidd writes to Lady Broome who is Kate's Aunt Minerva, asking if she can help her niece and the upshot is that Kate is taken by Lady Broome to stay at Staplewood, her large home. Her husband is Sir Timothy, a much older man and he has more or less withdrawn to his own wing of the house as his wife is an overbearing bully and he just won't stand up to her. His only friend had been his nephew Philip, but Kate becomes the daughter that he had never had.
Kate realises that her aunt has an ulterior motive for her invitation to Stapleton, she wants Kate to marry her son Torquil. He's completely in his mother's control, he's always had delicate health, but it's his mental state that worries Kate. He has tantrums and generally behaves like a three year old and his mother employs Dr Delabole to dose him up when he has a turn. His mother is desperate for him to produce an heir, but it needs to be with a wife that would also be under the control of Minerva his mother, she thinks Kate would be the ideal wife. Kate thinks differently.
This book dragged for me a bit although I must admit it got a bit more interesting towards the end, but it isn't one of her best, mainly because of the lack of humour and wit which I've come to expect from Heyer's writing.