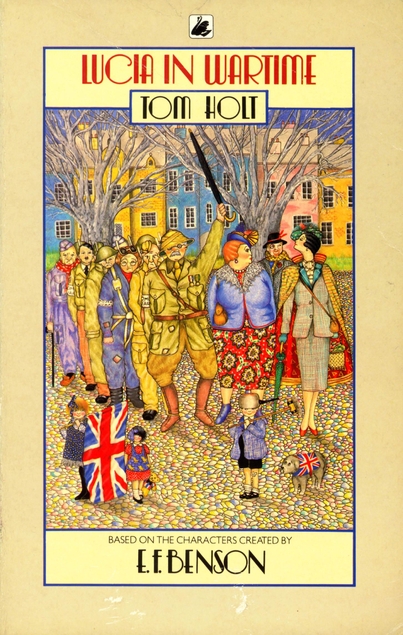 Lucia in Wartime by Tom Holt is an enjoyable read, especially for those of us who just love to be in the company of Tilling's foremost inhabitants, but unsurprisingly the author doesn't quite come up to E.F. Benson standards. There are of course plenty of spats between Mapp and Lucia. In Benson's books these are snobby and catty but in this book they descend into nastiness that feels like it has all been taken just a wee bit too far.
Also I think the author could have been doing with re-reading the originals a bit more closely as he gets quite a few details wrong about them. For instance Major Flint's habitual yell of quai-hai has become qui-hi.
Diva is even busier than usual with her dressmaking projects, she has of course always had a 'make-do and mend' mentality and rationing has just encouraged her to get her scissors out and add chintz roses to her clothing.
Most of the servants have left and gone to make munitions, Lucia and Georgie are appalled at the thought of having to cook for themselves, but Georgie rises to the challenge and discovers a talent for making meals out of practically nothing, and Major Benjy is in charge of the Home Guard. Mapp gets into a terrible fankle due to her usual duplicity, and Lucia is as always on guard whenever Olga Bracely's name is mentioned.
The wartime setting works really well, with Lucia and Georgie having to ditch their cod Italian as it's unpatriotic and a bit dangerous to be thought of as pro-Italian. A Polish phrase book is purchased!
Reading this one made me want to re-read the originals – again. I might make do with watching the DVDs though, the original series with Prunella Scales as Mapp and Geraldine McEwan as Lucia of course.