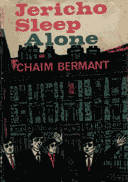 I was almost at the end of January when it dawned on me that although I'd been getting a lot of reading done, due to being stuck in the house trying to avoid the worst of our weather – but I hadn't read anything by a Scottish author. So I quickly remedied that by reading Jericho Sleep Alone by Chaim Bermant. Chaim Bermant was a Jewish author who wrote about what he knew, what it was like growing up in a Jewish family in Glasgow.
I read a lot of this author's books way back in the 1970s but I don't think I read this one then. Jericho Sleep Alone was first published in 1964. The setting is mainly Glasgow although Jericho does go to Israel for a while. The story begins just before Jericho's Bar-Mitvah and continues through his school and university days, and on to his attempts to get a suitable job and then his experiences on a kibbutz. Poor Jericho is a disappointment to his parents, he's a failure at everything he tries out and he doesn't even have any luck with the girls either.
That makes it sound like a depressing read but there are some funny characters which lift the whole thing and Jericho himself always had my sympathy. Of course Bermant was writing about family life in a Glaswegian/Jewish household and I remember being engrossed in the books, loving the settings and mentions of the Glasgow streets and people going off for their summer holiday to places like Helensburgh, all of 20 miles or so from Glasgow, but a different world from the city.
Jewish/Glaswegian families didn't seem to be much different from any other Glaswegian families and from my very small experience of the matter it seems to me that Jewish sons just enjoy complaining more about their mothers than anyone else, the mothers themselves seem like many others to me.
Anyway, I was lucky enough to pick up this old copy of the book in a charity shop in Aberdeen, in very good condition with its dust jacket which was designed by Hugh Marshall. I mention this because Jack and I were at an antiques fair a few months ago and we stopped at a book stall. Jack got into conversation with the stall holder about one of his books and the guy said proudly that he had bever read any of the books which he sold because he was only interested in the covers and their artists. Each to their own I suppose!
This novel appears in a list of 100 best Scottish Books.
Although I enjoyed it, I think from my memory his later books are even better.
This is the first book I've read for the Read Scotland 2015 Challenge.