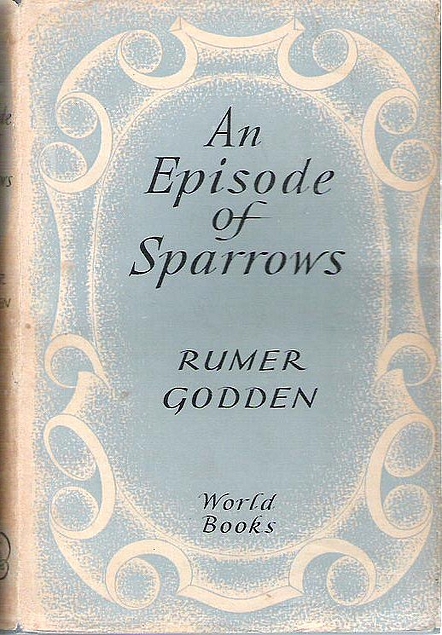 An Episode of Sparrows by Rumer Godden was first published in 1956. The setting is an area of London which like them all has a mixture of what had been grand houses fringing a poorer neighbourhood. The Victorian iron railings had been removed from the private gardens in the square belonging to the grander houses, and big holes were appearing in the grounds where large quantities of earth had been removed, it was a real mystery and Angela – queen bee of the Garden Committee – is determined to get to the bottom of it, although someone else will have to do the work of course.
Although I really enjoyed this book I did find it at times to be so sad as the main character, an eleven year old girl called Lovejoy Mason lives a loveless and neglected life as her mother has dumped her on strangers while she goes off to pursue a life on the stage, and doesn't even send money for her upkeep with the result that Lovejoy has grown out of her clothes and shoes, something that she feels keenly as she has a love of good quality fabric and design, something that her mother had passed on to her.
A packet of cornflower seeds begins her love of gardening and she manages to make a secret miniature garden on a bomb site, the only one which didn't seem to be inhabited by a gang of boys. But when the local baseball season was over (a game they had been taught by Zassi a little American boy) Tip Malone and his gang turned up to reclaim their patch and trouble ensues. But Tip Malone finds himself drawn to Lovejoy, it's a mystery to him. He thinks maybe it's because she always looks so clean with her hair well brushed, despite her obvious poverty. The garden becomes the most important thing in Lovejoy's life and Tip gets dragged along in her wake.
The children – the sparrows – are the main characters in the book, but their exploits have a big impact on Angela and her older sister Olivia who has always lived in her young sister's shadow. In particular Olivia who has never pushed herself forward is impressed with Lovejoy's attitude to life although it has to be said that Lovejoy is anything but a Goody two-shoes.
Although there's plenty of strife in this book the writing is lovely and it has a great ending so it turned out to be a perfect pandemic read.
I had been under the impression that I had read this book back in the 1970s when I had a big Rumer Godden binge, but I soon realised that I hadn't, so that was a nice surprise. I wonder how long it has been sitting unread on my bookshelves!