The garden at Edzell Castle dates back to 1604. Apparently Sir David Lindsay wanted the protection that a medieval castle gave him and his family, but he also wanted his children to experience the more beautiful things in life such as this renaissance garden. You can read about it here.
The niches in the walls are normally planted with flowers but due to Covid it hasn't been done this year, most of the historic places have just reopened to the public, the gardener is also having a tough time with the box hedging which was famous for its intricate topiarised Latin inscriptions, but sadly the box got blight and is nothing like it should be, it is being replanted I think but it'll be ages before it's back to its former glory as in the old image below.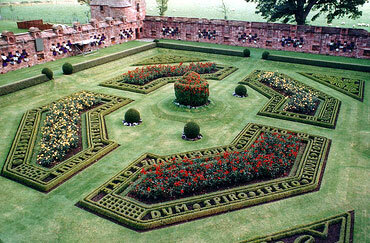 The wee house in the next photo is a summerhouse which was used for entertaining in the garden.
The walls have carvings of planetary gods on them and the swallows often nest in the small wall niches, especially the star shaped ones.
There's a well in a corner of the garden and when I had a look down into it (as you do) I could see that there was no water in it, just some sweetie wrappings deposited there by some 'charmer'. So that led us to go on a search for the source of the water as you can't have a castle without a water supply. Presumably there was a burn (stream) which supplied the well in days gone by but it must have been diverted or drained, probably by modern farming. We found the West Water about a mile from the castle, it's a lovely walk down to the river with fast flowing clear water, but I'll leave that for another time.