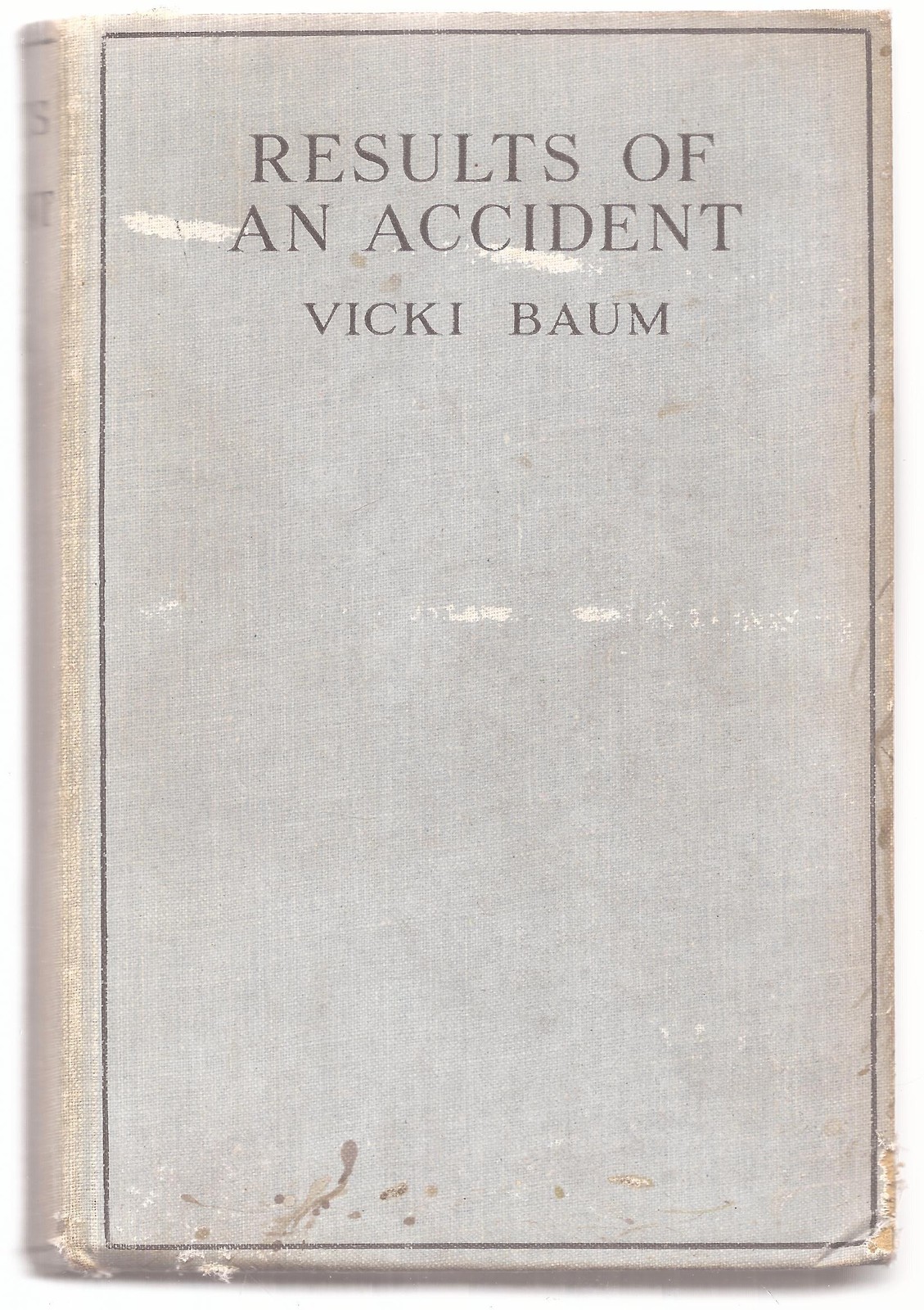 Results of an Accident by Vicki Baum was first published in 1931. It was written originally in German as Zwischenfall in Lohwinckel and was translated by Margaret Goldsmith.
Doctor and Frau Persenthein live in an ancient wooden house which creaks and groans and leans at angles, making it difficult to sleep in a bed without worrying about falling out of it. But it's a cheap house which is all that the doctor is bothered about. Nick, the doctor is only interested in his medical research and buying more apparatus to help with it. The upshot is that his poor wife Elisabeth never has enough money for food and she has to spend most of her time cleaning up after her husband and his patients. He makes them have mud baths and she has all the towel washing and bathroom cleaning to do. It's a hard and boring life for Elisabeth and she doesn't get much joy from their strange five year old daughter Rehle, who is so like her father.
Some well known people are being driven by a chauffeur through the town, they've come from Berlin and are on their way to Baden Baden but they crash and are taken to the doctor's house to be patched up.
The people of the small town are agog, never did they think that a well known and beautiful young actress, a famous boxer and a wealthy and handsome industrialist would be staying in such a backwater.
Their arrival and the fact that they have to stay in Lohwinckel for some time leads to mayhem as the townspeople hang about in the hope of glimpsing the celebrities. For Nick and Elisabeth it could be the nail in the coffin of their marriage.
I enjoyed this one although it did remind me a lot of The Pastor's Wife by Elizabeth von Arnim. Not only because of the German setting but also the husband who spends all of his time experimenting and trying to prove theories and also a change in the attitude of the wife when she meets people from outside her small world.
Vicki Baum has one of her female characters talking about the possibility of lesbian relationships, something which must have been a very risque subject for books in 1931 when this was published. But so authentic when you think of Berlin of the 1930s, think Cabaret. In fact given that Vicki Baum was Jewish and that she was writing about people who would have been deemed to be degenerates as far as the Nazis were concerned, she was doubly lucky when she was asked by Hollywood to write the screenplay of her 1929 book Grand Hotel, she took the chance to emigrate to the US, thus avoiding the fate which befell poor Irene Nemirovsky.
I'm going off subject here but have you heard that Suite Francaise has been made into a film? Sadly I think the film is one to avoid, according to the reviews I've read anyway.
Anyway, I now feel that I have to track down Grand Hotel. Have any of you read it? The only other book by Baum which I've read was her 1943 book Hotel Berlin and that was very good although completely different from Results of an Accident.