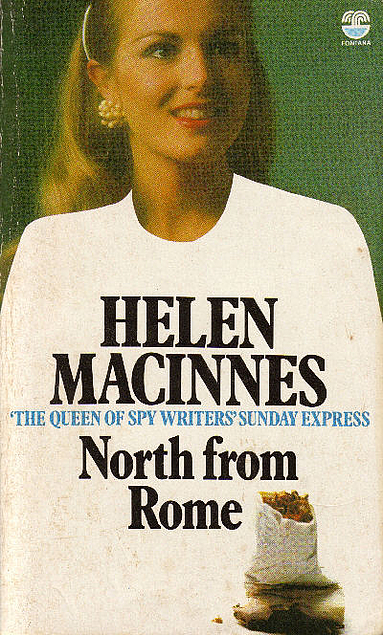 North from Rome by the Scottish author Helen MacInnes is the first book that I've read from my 20 Books of Summer list. It was first published in 1958.
Bill Lammiter is a young and successful American playwright who has recently been dumped by his fiancee. She works at the American embassy in Rome and Bill is feeling bruised as Eleanor has quickly replaced him with an Italian man with a title. The story begins with Bill looking out from his balcony, admiring Rome in the dark and imagining the Roman soldiers who must have walked there in the past. His attention is taken by a young woman's scream, she is being manhandled and is almost abducted and bundled into a car. When the man realises he has been spotted the woman manages to get away and so begins Bill's unwanted adventure.
He had been hoping to be able to speak to Eleanor outside the embassy at some point, but when he does see her she is sitting at a table near his in a restaurant, alongside her Italian prince and his mother, then Rosana, the young woman that Bill had been able to help the previous evening joins them.
It's all very strange, and becomes stranger. It seems that Eleanor's new man is not what he appears to be. This is a really enjoyable thriller and I especially liked the Italian settings as the action moved from Rome to Perugia, MacInnes paints the landscape and gives a real flavour of Italy, no actual travelling required.