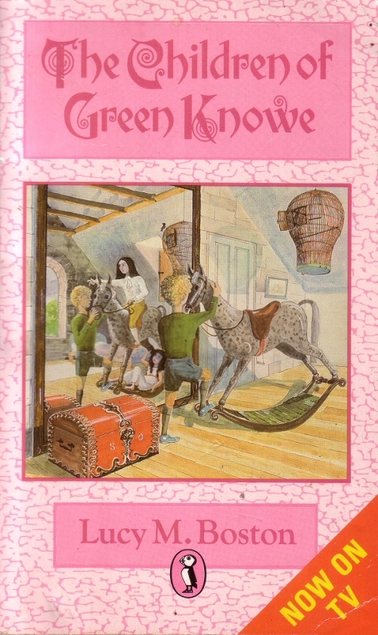 I'm still catching up with children's classics that I missed out on when I was a child and someone in the blogosphere mentioned The Children of Green Knowe by Lucy M. Boston as being one of their favourites, so when I saw a copy of it just a week later in a secondhand bookshop in Ellon, Aberdeenshire it seemed like serendipity. This book was first published in 1954.
I have to say though that I don't think I was in the right mood to read this book as other people seem to rave about it and I thought it was just okay. I will continue with the series though as the fourth book in the series won the Carnegie Medal and I'm trying to work my way through that lot.
Green Knowe is an old house and it belongs to Tolly's great grandmother. Tolly's mother is dead and his father and step-mother are in India. Poor Tolly is at boarding school and doesn't even get to see any family over the holidays, so visiting his great grandmother for the first time is rather nerve-wracking. But she's a lovely old lady and tells Tolly all about the previous generations of children who have lived in the house. The spirits of the children – and a horse – still inhabit the place, Tolly can hear them and eventually he can see them too and he's able to play with them.
Green Knowe is based on Lucy M. Boston's own home in Hemingford Grey, a village in Cambridgeshire and I believe it and the garden she created are open to the public. She was a student at Somerville College, Oxford in 1915 but left to become a nurse at the front in France. She didn't begin her writing career until she was over 60. I think her memoirs might be a lot more interesting. She wrote Perverse and Foolish about her wartime experiences and Memory in a House is about her renovation and restoration of her house.
You can see images of The Manor at Hemingford Grey, the original of Green Knowe here.