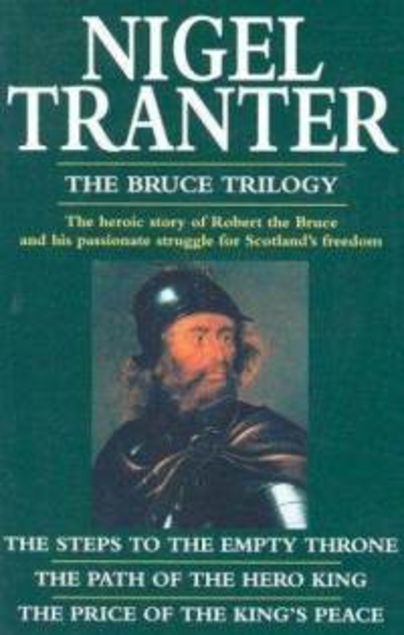 The Steps to the Empty Throne by Nigel Tranter was first published in 1969 and it's the first of a Bruce trilogy. I do think though that Tranter was a bit generous with what is known of the history regarding Robert the Bruce, at one point Bruce comes to the aid of William Wallace at the end of a battle, something which almost certainly didn't happen. In the early days Bruce was known for not being where he should be – when it came to battles. I suspect this was because he had had quite a close relationship with Edward I of England – before Edward became known as 'The Hammer of the Scots'.
Scotland had always been an independent country but when King Alexander III fell off his horse and died at Kinghorn in Fife (see his memorial at the location here) and then his daughter (The Maid of Norway) – who had been his heir died, that left a power vacuum and that's what this book is about. The Scots made a huge mistake in asking their neighbour King Edward of England to help to choose between the candidates. Edward decided that John Balliol should get the top job but he had decided to take over himself in Scotland and Balliol was really just Edward's puppet. As you can imagine this didn't go down well with the Scots who ended up getting rid of Balliol and signed a treaty with France, always England's enemy. Edward took this as an excuse to invade Scotland and so began the Wars of Independence. As ever though the Scots were as much at each other's throats as at war with the English.
A few battles are fought but the book is much more than that. Bruce is a widower but by the end of the book he has remarried so there's romance too, despite Edward's manipulations. There's the difference between William Wallace's guerrilla warfare and Bruce's chivalric leanings which he had to give up when Edward's dirty tricks led to Bruce's defeat in battles. The manner of Wallace's execution also enraged so many Scots – so the gloves were off. Bruce had always been keen to avoid being excommunicated by the pope, but inevitably that happens, he was reminded that the Scottish church had originally been a Celtic church and it had been obliterated by Queen Margaret (King Malcolm's wife) who replaced the Culdees with the Benedictines that she had grown up with. Suddenly excommunication didn't matter any more.
I'm really looking forward to the next one in this trilogy The Path of the Hero King.