On Monday we went to Falkland, a nearby village, it's a place we visit regularly, it's very quaint and it's good walking country, but this time the main street was lined with 'no parking' traffic cones as you can see, and lots of people were hanging about, presumably to make sure nobody parked there anyway, you know the way there are always those who believe that any rules don't apply to them.
I hope that paint comes off the stonework all right, the drainpipes are normally all shiny black paint but you can just see that they have painted the one on the left to look all rusty and grotty, the 'wet paint' sign is still on it.
The shop below is normally a gift and coffee shop but it was in the middle of being kitted out as a furniture shop, 1950s style I would say.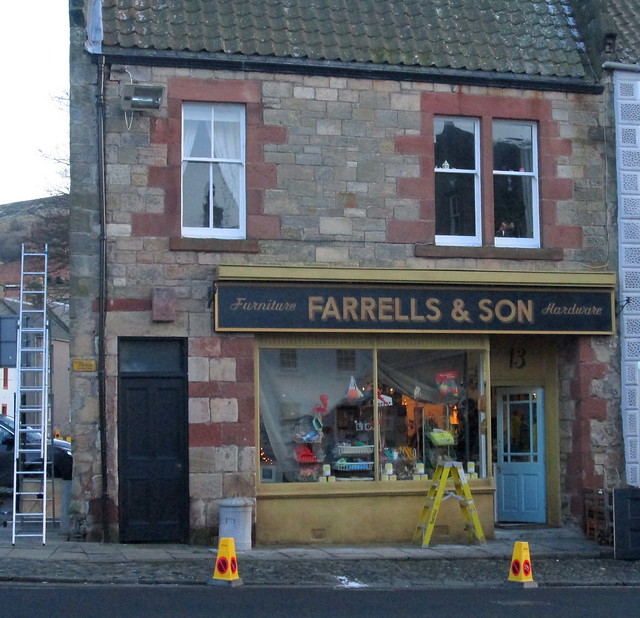 The upshot was that they are filming Outlander there, it seems that just about everywhere we go has been in Outlander, but as it's on a cable TV channel that we don't have we haven't seen any of it.
I say 1950s because there are loads of bananas in the fruit shop display, but I suppose it might be the 1930s. This shop is normally a restaurant/coffee shop and they have just about managed to cover up the modern shop sign with the awning.
The boarding in the two photos below is not normally there.

We noticed a couple of weeks ago that the biggest pub/restaurant was closed and boarded up which seemed weird but presumably they were busy doing something to the interior, they would have to, because the place had been gutted and was very modern looking inside.
And across the road from all that stands Falkland Palace, it has seen a lot in the lifetime of its stonework, as it was the hunting palace of the Scottish royalty – the Stuarts and a favourite home of Mary, Queen of Scots, before her imprisonment by the English.
I'm now definitely buying the Outlander DVDs so that I can play at spotting all the locations.