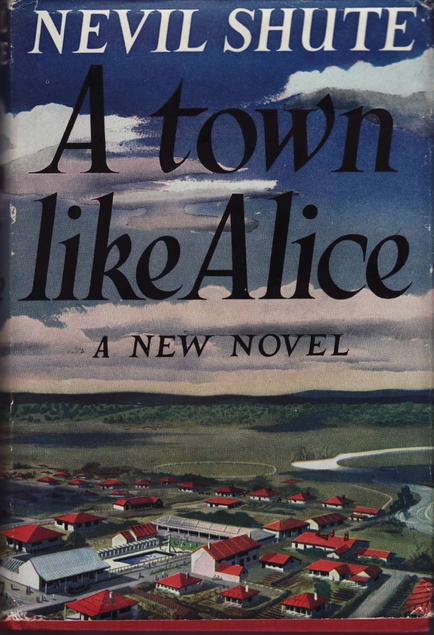 A Town Like Alice by Nevil Shute was first published in 1950 and I don't remember ever not knowing about it, such is its fame, but I hadn't ever really been drawn to actually read it until Lisa @ TBR 313 mentioned it was her favourite. Even then, when I flicked through the old 1956 hardback copy that I managed to buy at a second-hand book-shop, I had misgivings when I saw the Japanese names. Possibly that was why I had avoided it, having had a few chaps in my extended family who had been prisoners of the Japanese during the war. Anyway, it turned out to be a page-turner that I thoroughly enjoyed.
Jean Paget had gone out to Malaya to work before the outbreak of war, she had had family links with the country and was able to speak the language. When the Japanese army so unexpectedly swept the country she had ended up being a prisoner along with the wives and children of the men who had worked out there. The men were all taken prisoner and taken off to build the infamous Burma railway.
Meanwhile the women and children weren't wanted by anyone, they were shoved from pillar to post having to walk hundreds of miles in search of a women's prison that didn't exist, with many of them dying of exhaustion.
Jean's strength of character is a life-saver for them all and when she gets back to Blighty after the war she settles down to a boring and lonely life as a shorthand typist, until she gets word that she has been left a fortune by an elderly uncle. Jean is the only survivor from her family and the lawyer appointed as a trustee of her inheritance befriends her, he helps her achieve her ambition of digging a well for the women of the village where she had lived and worked during the war.
When Jean discovers that an Australian soldier she had assumed had died had actually survived she sets out to find him and so begins a romance that leads to her settling in Australia's outback and developing bit by bit a community and better way of life for the people of that remote area.
Nevil Shute was obviously very enamoured of the Australian landscape and the people who scraped a living on farms in the searing heat with practically nothing in the way of comforts. Although the way the aboriginals are portrayed is a bit uncomfortable, I'm sure he was writing an accurate picture of their life. I think perhaps things are in some ways even worse for the aboriginals nowadays.
A Town Like Alice is a great read though and I'll probably give it five stars on Goodreads.