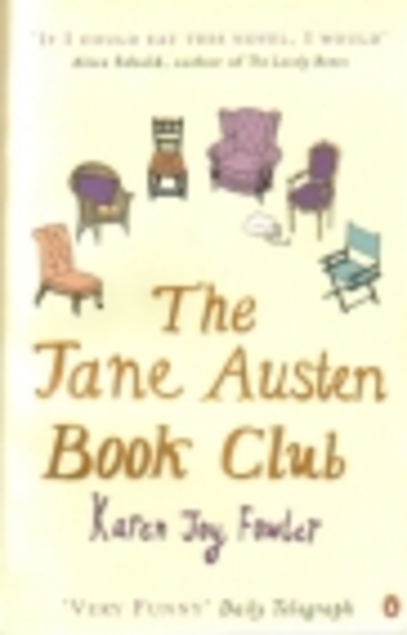 We were having a look at the books for sale at the library and Jack spotted The Jane Austen Book Club by Karen Joy Fowler, he said the author was meant to be good so I bought it – for all of 30p, it's a paperback. I usually avoid Jane Austen spin-off things as I've been burned before by them – I should have stuck to my guns. I'll be giving this one just two stars on Goodreads, it just wasn't my cup of tea at all.
The book group consists of mainly middle-aged women, two are mother and daughter, most of them have been friends for a long time, since schooldays in some cases. One is getting on in years, one has just been abandoned by her husband of 30 odd years, the youngest is a lesbian and there's a newcomer, a man called Grigg. He's newly redundant, has moved to the area as it's a cheaper place to live, he's really into science fiction and has never read anything by Jane Austen before. They've never had a man in the book group before.
One of the women is a matchmaker, another makes thoughtless cutting remarks to others … you get the idea I'm sure.
Jane Austen was supremely self-deprecating when she said:
'Three or four families in a country village are the very thing to work on.' It takes a lot more than that to write a great book. There are three or four families involved in the book group, but none of the characters is interesting or even likeable.
It's a mystery to me why this book was a best seller but I suppose the title has an awful lot to do with that, rather than the contents. I imagine that the people who have disliked it most are the ones who love Jane Austen's books.
I'm quite annoyed with myself for choosing this one as my first book of the year, but I often do read a book as soon as I buy it, ignoring the many that are waiting patiently on my bookshelves. There's absolutely no rhyme or reason to it.
You might be able to see on the cover that the author Alice Sebold said of this book: 'If I could eat this novel, I would' – each to their own! Really if I could afford to I would send Sebold a sort of Red Cross parcel of good books, but I suppose it is just as well we are all different.
Have you read this book? Did you enjoy it?