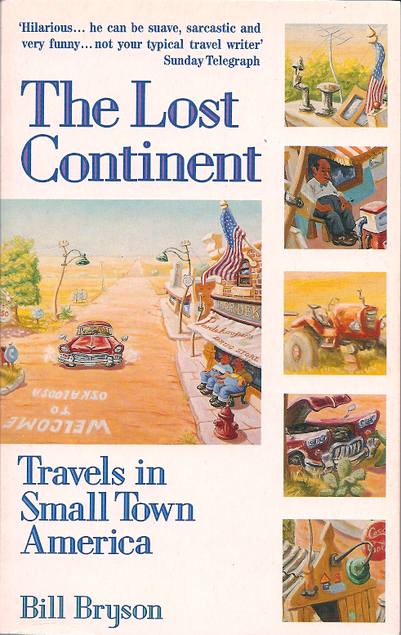 The Lost Continent by Bill Bryson is subtitled Travels in Small Town America and it was first published in 1989. In fact this book is probably something of a nostalgia trip for anyone who knows any of the areas mentioned, I imagine things have changed quite a bit in the almost 30 years since he wrote it. I believe that Bryson recently said that in his earlier books he set out to be very amusing and aimed for two laughs on every page, but he has now become more relaxed about his writing and less needy for laughs.
I really enjoyed this book although I am of course reading the laughs with a pinch of salt and allowing for exaggerations, however I had a look at the Goodreads comments and most of them seemed to be by disgruntled Americans who maybe are not very good at laughing at themselves. As we Brits have the most fun laughing at ourselves I find that difficult to fathom, but for that reason I'm wary about recommending this one to people in the US – who may suffer from a sense of humour by-pass.
Bryson comes from Des Moines and as he says – Somebody had to. At the beginning of this book his father had fairly recently died and it set up a nostalgia for the past and the roadtrips that his family went on during holidays, so he decided to revisit some of the places, beginning in the East. He's on the trail of the perfect US small town, but suspects that such a thing doesn't exist, a place where kids still go about on their bikes and throw newspapers on lawns (that has always seemed bizarre to me).
Unsurprisingly he discovered that the touristy places are best avoided as they're too busty and tend to be tacky – but we all knew that. He mentions that Cleveland is disgustingly polluted, and that a river there had so many chemicals in it that it caught fire and burned for four days! He says it has improved a lot but, given that the present President has apparently allowed people to start dumping who knows what in rivers again – it won't be long before rivers, lakes and wells are poisoned again.
He mentions that when he was in Times Square only two of the forty or so electronic adverts were for American products, the writing for US industry was literally on the walls. One thing that he really missed was the Burma Shave signs – nostalgic things like that will speak to Americans I suppose, but he is of course speaking about things that non-Americans have no experience of.
I've only read a few of Bryson's books but as I recall they're written from the perspective of a foreigner in England/Britain and US readers seem to have been very happy to laugh at the quirkiness of those crazy Brits, but weren't so happy when the spotlight was turned on them. He mentions that the first thing an American asks a foreigner is 'what do you prefer – America or your home country?' and are always very disappointed when the person prefers home, but why wouldn't they?!
When Bryson turns to the West he's really out of his comfort zone and finds that the people there are not nearly as friendly as the Easterners. This is completely opposite from Britain, folks in the west here are always much warmer and more friendly. But maybe those Westerners just didn't like his accent much. Bryson gets much jollity from southern accents in particular. It seems like America is really an amalgamation of different countries with very different ways of living, and indeed some people thought that he was foreign and he was complimented on his English! Maybe he had lost his Iowa accent after being in England for a few years.
He liked a town called Bloomsburg, a small college town not far from Gettysburg, but it seems that it was just about to be ruined by developers. He loved Fairmount Park in Philadelphia, Mount Vernon. He said at one point that all of the towns in the south were nice, mentioning Macon, Selma, Columbus and Savannah.
This is an interesting and fun read, even if you're never likely to visit any of the places mentioned, and the information is way out of date.