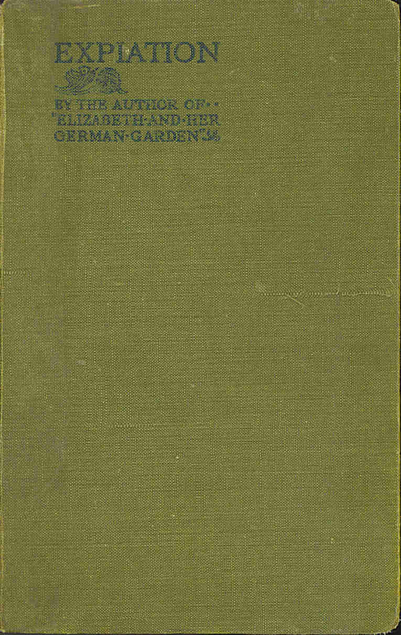 Expiation by Elizabeth von Arnim was first published in 1929. The story begins with Milly Bott's in-laws being desperately worried about her. Milly's husband Ernest has just been killed in an accident and Milly seems stunned. She had married into the Botts family – a rather snooty one – and they are very much aware of their standing in the community, see themselves as being the creme de la creme of society. Milly has been a favourite, she's childless and has spent her life moulding her personality to fit in with everyone else. She just agrees with them for an easy life but that has taken a toll on her.
From the outside it looks like she had a charmed life with a wealthy husband but he was a difficult man and the marriage was a failure. He had made Milly cut off contact with her only sister because she had eloped and had lived with her husband for three weeks before the marriage. The Botts couldn't have anything to do with something so scandalous. Milly secretly writes letters to her sister who has settled in Switzerland with her Swiss husband.
Unknown to everyone Milly had been having an affair for over twelve years, so she feels she shouldn't be receiving all the concern and condolences from people. But she gets a shock when her husband's will is read out.
It seems that he had changed his will the previous year and Milly realises it must have been because he had discovered she was having an affair. The details of the will make it plain, he has willed most of his money to a home for fallen women. Milly gets only £1,000 from him and is left homeless. Realising that the Botts are unlikely to want to harbour their unfaithful sister-in-law, not that she wants to live with any of them, Milly decides that her best bet will be to travel to Switzerland to live with her sister who according to her letters is living a wonderful life as the owner of a popular and successful hotel. It turns out that she has been economical with the truth.
Nothing is as Milly expected it to be. After having led a life of luxury and comfort she's thrown into a world of penury and even hunger.
I don't want to say too much more about the book except that you should read it as it's really good despite featuring a very unlikely coincidence. Milly is trying to make amends for being unfaithful but she really only develops a guilty conscience about it after her disagreeable husband is dead. For me there wasn't a lot of humour in this one, except maybe when the sisters-in-law start speculating about who Milly's lover was – was it one of the husbands?! In parts it's quite heartbreaking for Milly who has to pay dearly for her occasional bouts of happiness over the years.
I don't know a great deal about Elizabeth von Arnim's life but I feel that her later books don't have as much humour in them, I suspect that she was one of those women who didn't cope well with her ageing process.
Luckily I have a nice old copy of Expiation but I'm now reading The Benefactress which I've downloaded from Project Gutenberg.