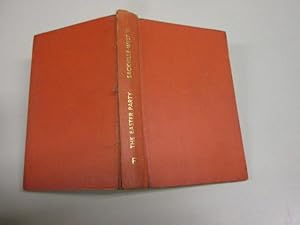 The Easter Party by Vita Sackville-West was first published in 1953 but for me it somehow has more of a 1930s atmosphere. My copy is a first edition but sadly doesn't have the dust cover. The setting is a large old house called Anstey, owned by Sir Walter Mortibois who inherited Anstey and is a wealthy lawyer. He's a very flawed human being though and when he suggested marriage to a very much younger Rose who is the local vicar's daughter he explained to her that it would be a marriage in name only as he really only wanted someone to be a perfect hostess. He has no interest in the physical side of marriage so there would never be any children, he believes that the human race should just peter out! or words to that effect.
It doesn't take Rose long to decide that she'll marry him as she had always hated being poor, but she falls in love with Walter and has to endure an existence with no human contact despite the fact that she really longs for it. Walter and Rose's relationship is contrasted with that of her sister Lucy who has married for love and although her husband is an impecunious stockbroker (is there such a thing?) they're a very happy family. Lucy is sorry that her sister has had no children, but she has no idea that Rose is still a virgin.
I really like Vita's writing style but the story just doesn't hang together as the love of Walter's life is an Alsatian dog called Svend, throughout most of the book the reader gets the impression that Svend has always been there, but towards the end of the book it transpires that he's only three years old. I didn't like the ending as I wanted to know what happened next, but there was no sequel.
As it happens decades ago I knew a woman who had been put in a similar position. She was a PA to a wealthy businessman, he even had his own aeroplane, however he was a homosexual at a time when it wasn't so socially acceptable. He explained to my friend that there could be no children but she would have everything else that she wanted in life, she turned him down. I don't blame her as what a lonely arid life it would have been for her. It took her no time to turn his offer down but I know that that sort of thing would have appealed to some women.