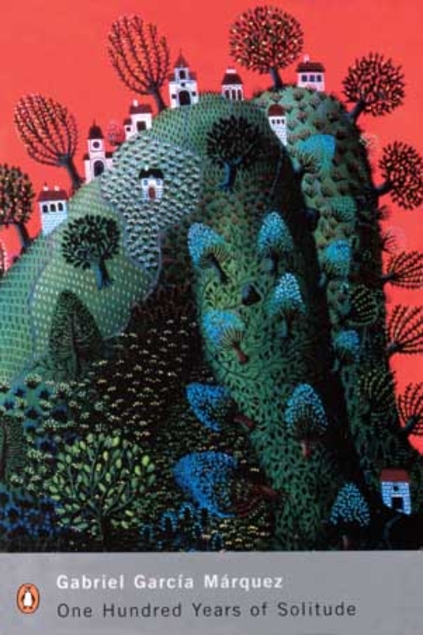 Fellow blogger Judith (Reader in the Wilderness) and I were supposed to be doing a readalong of One Hundred Years of Solitude by Gabriel Garcia Marquez, beginning on July the 1st and reading it in four weekly chunks. Jack had enjoyed it and it's one of those books that I thought I should read but sad to say I just didn't get on with it at all, maybe it's one of those Marmite things, you either love it or hate it. Judith had the same experience, in fact I don't think she got any further than page 58, I struggled on to the end, despite the fact that I didn't like any of the characters, didn't care what happened to them and I'm not a fan of constant repetition which is really what went on in this book.
Characters' names travel through the generations and presumably in an attempt to be experimental the author chose to write it with a strange structure, that is, beginning at the end of each section and working his way to the beginning. It's a circular book and I found the ending to be obvious. Maybe an unusual structure is the way to win a Nobel prize for literature!
Seven generations of the Buendia family are worked through in 422 pages. The setting is Macondo which is a small village which had been founded by Jose Arcadia Buendia. According to the blurb on the back this book is – a blend of political reality with magic realism, fantasy with comic invention and is one of the most daringly original works of the twentieth century.
My Penguin copy was translated from Spanish by Gregory Rabassa and there are some surprisingly clunky bits – such as people being hung to a tree and also Saint Augustine is described as having worn a wool jacket under his clothes when surely it should have been a hair shirt.
Hmm – well I actually bought my copy of this book because of the cover – we already had a different edition that Jack had read. For me the cover of this one is still the best thing about it – but as I'm always saying – "it's just as well we are all different."
The cover is a detail of Summer (1981) by Tamas Galambos. One Hundred Years of Solitude was first published in 1967.
You can read Jack's review of the book here.
I read this one as part of the Back to the Classics Challenge.