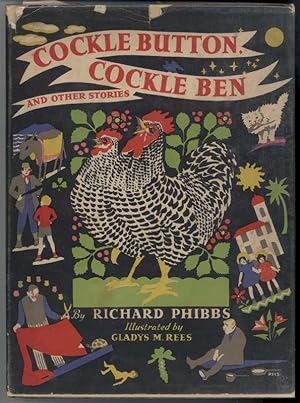 Cockle Button, Cockle Ben by Richard Phibbs was first published in 1940 and it's one of the books that I bought at a great secondhand bookshop in Aberdeen. Actually I bought a pile of books there and for that reason I swithered over adding this one to the pile, but the great cover art persuaded me, it's so of its time and somehow cheery looking.
It's a collection of six short stories for children and while flicking through the book the words 'air raid' jumped out at me from a page. This seemed like a very strange thing to be featured in a children's book, I was intrigued. It was the third story called Mary Luz and Mary Sol which contained an air raid, but it turned out that it must have been a Spanish civil war air raid. The editor must have thought that as the story was being published in wartime Britain it would be a good one for youngsters who would be experiencing bombs being dropped in their neighbourhood, it still seems a bit strange to me though.
The first story – Cockle Button, Cockle Ben is about two Plymouth Rock chickens, Cockle Button isn't a good layer but the farmer's wife wants to show them at the May Fair, however they think that the differences in their routine must mean they are being readied for the chop and make an escape bid. Parts of this story reminded me of the film Chicken Run.
The second story – Kitty Alone features cats, and the fourth one – Jacka'nory is a tale about a feckless man. The fifth The Mist-Woman of the Mountain is about a young boy who takes his mother's beloved clock to be mended, with disastrous results and the sixth story – The Roll of Red Flannel is about a toyshop owner whose business is failing until he has an idea which transforms his fortunes.
This collection of children's tales is very different from books for children that are being published nowadays and in truth for me it was the art work which I appreciated most, it's very much of its time, the illustrator was Gladys M. Rees, whom I had never heard of before. You can see some of her work here.
This is what the endpapers looked like.