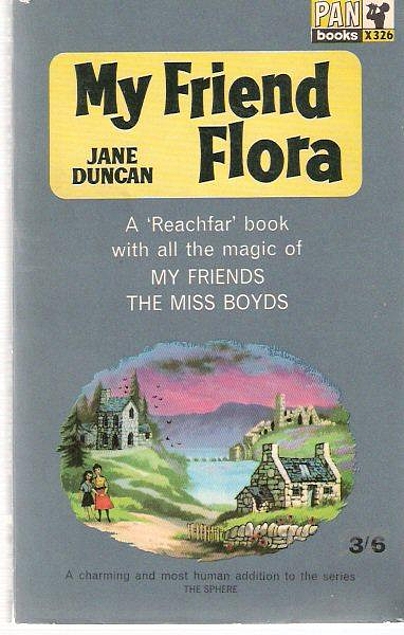 My Friend Flora by Jane Duncan was published in 1962, it's part of a long series of 'My Friend' books. These are generally a light-hearted keek into another way of life, the setting is the Highlands of Scotland, a remote crofting community where all families have a nickname. Often it's just the name of the farm where they live. Janet Sandison's family are all named Reachfar as a surname. Reachfar being the name of where they live.
It begins in 1915 when Janet goes to the small local primary school and meets Flora Smith for the first time. Flora is a few years older than Janet and her bye-name as they call it is Bedamned because her father is always using that word, but it seems that the bye-name is more like a curse on the family as disaster after disaster befalls them. For that reason this book is different from the others in the series that I've read, admittedly I haven't got my hands on many of them yet.
Janet is sorry for Flora, it seems like a life of selfless drudgery with no thanks from anyone, particularly her harsh and morose father, but Flora is happy with her lot and her situation shows that what seems appalling to one person is a source of love and even pride to another.
Towards the end of the book the action moves to the USA briefly, via a trip on a ship and aeroplane, something that would have seemed very exotic to most readers of the book.
This was an enjoyable read despite Flora being the sort of character that you wanted to give a good shake and also some uncomfortable scenes involving a dog being tormented. There is comeuppance which is always a good thing.