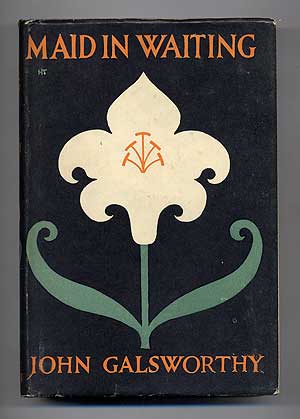 I got Maid in Waiting by John Galsworthy in the Classics Club spin number 28, it's the seventh book in the Forsyte Saga which should really be called the Forsyte Chronicles, and it continues with some of the characters from the previous book and features the Charwell family (pronounced Cherrell). They're not nearly as well off as the Forsytes as they've mainly opted to become church minsters in slum districts, joined the army or become academics.
While Herbert Cherrell, an academic was on an expedition in Bolivia he had had to shoot a muleteer, he got into that position because he had taken to flogging the muleteers for continuing to ill-treat the mules despite his complaints about it. As you can imagine they didn't take well to being flogged. There's a possibility that he'll be extradited to stand trial in Bolivia and at this danger to one of their own, his very clannish family is incensed and set out to pull strings – or in the case of the women to 'vamp' men they think might be able to help.
Meanwhile another of them, Diana, is in trouble. Her husband who has been in a private mental hospital for some years suddenly appears back home, claiming to be fine. But he had been violent to her in the past and she's terrified of him. Again the family comes to her aid. Mental health is quite a theme, was it hereditary or did his experiences during World War 1 turn his mind?
I really enjoyed this one which is quite topical, humans never really change. The Cherrells, some of whom seem very decent, do however have a sense of entitlement and strangely a feeling that they are being held up to higher standards than others simply because of their connections. They see having friends and relatives in high places as a bit of a disadvantage!
It ended a bit abruptly for my liking and I hope that the next one in this trilogy which is called Flowering Wilderness, features Dinny Cherrell as I became quite fond of her, she's the young mainstay of the family.
I also read this one for the Back to the Classics Challenge 2021 which is hosted by KAren K at Books and Chocolate.