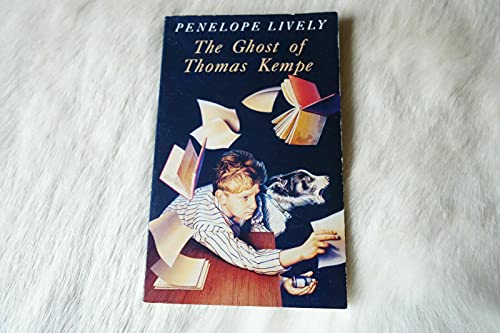 The Ghost of Thomas Kempe by Penelope Lively is the first of her many books for children that I've read and I really enjoyed it. It was first published in 1973.
It's the story of the Harrison family who have recently moved into an old cottage in Oxfordshire. There's mum and dad and two children James and Helen and Tim the dog. James and Helen have a typical brother/sister relationship, often at loggerheads but occasionally united.
The house had needed a few repairs to be done to it before they moved in, James's attic bedroom hadn't been used for years, in fact the workmen had had to remove nails from the door to get in, it had been well blocked up.
James likes his bedroom but strange things happen in it. Things move and get broken, there are often cold draughts, and old fashioned writing appears in various places and Tim barks at thin air. With his reputation of being a bit naughty it's not surprising that James's parents blame him for all the nonsense that's been going on. He's in trouble and knows that there's a poltergeist which has travelled from his room and is broadening its horizons, beginning to cause trouble in the village too.
It seems that the poltergeist is the spirit of a 17th century sorcerer called Thomas Kempe and he wants James to be his apprentice, but Thomas is not happy with the way modern life has evolved since he was last on the loose.
I would have loved this book as a child but like all well written children's books it's just as enjoyable a read for adults too. Lively won the Carnegie Medal for this book. I think the only other of her children's books I have is The House in Norham Gardens. Have any of you read any of her books for youngsters?