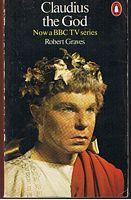 Claudius the God by Robert Graves was first published in 1934 and is of course the sequel to I,Claudius. You can read what I thought about that one here.
I think inevitably Claudius the God wasn't as gripping a read as I, Claudius probably because that one featured so many power crazy emperors, executions, murders and poisonings were constants so it was all go.
The story is of course being told by Claudius and when he reluctantly dons the purple robes of emperor (he wanted to bring back the Roman republic) he tries to put the country on an even keel by melting down all the gold statues that Caligula had had made when he was completely mad. Claudius is very popular amongst soldiers and ordinary people, but the senators aren't so keen on him and a few of them had already tried to grab power before the army declared him emperor.
This book is Claudius' account of what he did and why he did it. In some cases he behaved just as badly as previous emperors although he acknowledged his mistakes, the end result was still miscarriages of justice. The worst mistake he made though was to trust his wife Messalina. Despite the fact that he had seen how his grandmother Livia had abused the power given to her by her husband Emperor Augustus, Claudius gave Messalina just as much power as he had, giving her a duplicate of his seal so she could and did do whatever she wanted. As she was just as evil as Livia, she caused mayhem but poor Claudius had no idea of her real character at all.
Herod Agrippa features quite a lot and of course it was Claudius who invaded Britain so that is very interesting although I have no idea how true that account is. Did they use elephants and camels in the invasion terrifying the British who had never seen such animals before?
It seems that Claudius was wise in many ways, or maybe it was just that he was well read and 'stood on the shoulders of giants'. But in many ways he was completely naive.
This book was one of my 20 Books of Summer and also counts towards my James Tait Black Memorial Prize Challenge as it won that prize in 1934.