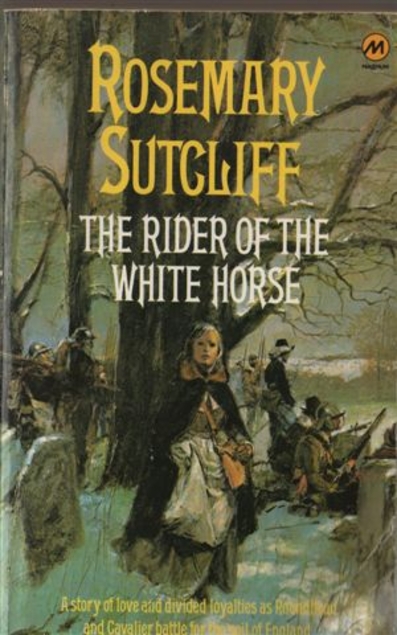 The Rider of the White Horse by Rosemary Sutcliff is the book that I got in the Classics Club Spin #22. It was first published in 1959. I've read and enjoyed quite a lot of books by this author so I was happy to be reading this one. However for some reason it just didn't hit the spot.
The setting is the North of England during the English Civil War – or more correctly as it is called nowadays, The War of the Three Nations. The writing is good as you would expect but for some reason the whole thing just dragged, although there are only 320 pages, albeit of fairly small print.
Anne and Sir Thomas Fairfax are prominent members of their community and their marriage had been an arranged one. They're on Parliament's side in the Civil War. Sir Thomas becomes legendary within the Parliamentary Army as The Rider of the White Horse and is beloved by his men and Anne follows him around to various northern England towns as he takes part in battles with the Roundheads/Royalists.
Anne had been very unsure of her husband's feelings for her, but she's devoted to him and her determination to stay near him with their small daughters culminates in her briefly being taken as a prisoner of war. She eventually realises that Thomas is just an undemonstrative husband.
As you would expect Oliver Cromwell rears his ugly head in this book.
For me the most enjoyable part was remembering all the locations that were mentioned that we had visited. When we were walking about in places like Selby and Wetherby I don't think I realised that I was exactly where people had been fighting in battles – as they were right outside Selby Abbey.
Otherwise this book really dragged for me.