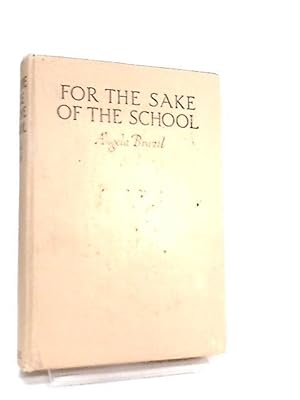 For the Sake of the School by Angela Brazil was first published in 1915 but my copy was published during World War 2 as it has that Book Production Economy Standard logo at the front and although there's no publication date it was a gift to Rose from Jean for Christmas 1943.
I didn't read any of these books as a child, I was strictly an Enid Blyton Malory Towers/St Clare's girl which were obviously written along very similar lines as far as morals and behaviour are concerned. Blyton probably just wrote updated versions of Brazil's books. I suspect that Brazil was better though.
It begins at a railway station as most schooldays' stories do (Harry Potter). The girls are on their way to The Woodlands which is in a very rural setting in Wales. The two women who own the school are keen on nature and wildlife and the girls are encouraged to get out into the great outdoors as often as possible. In fact they could be regarded as nature worshipers, such is their enthusiasm.
This year Ulyth (new name to me) is particularly excited because Rona the New Zealand pen-pal that she has been writing to for the last two years is arriving as a new boarder. Rona's mother is dead and she has had a rather rough upbringing by her father who is a farmer in the wilds of New Zealand. Ulyth who has been looking forward so much to meeting Rona is rather shocked by her appearance and lack of manners. She's keen to drop her pen-pal but is persuaded to take her on as a work in progress and try to make Rona conform more to what is expected of girls from The Woodlands School.
Trials and tribulations ensue, wrong conclusions are jumped to but as you would expect – all is well in the end. I did find the storyline of this book to be more than a bit obvious, but it was still enjoyable and I can imagine that if I read this as a ten year old I would have loved it. I think most if not all of Angela Brazil's books are available free from Project Gutenberg.
It struck me a couple of times that Angela Brazil wrote as if she was Scottish, according to Wiki her mother was a McKinnel, so possibly they were originally from Scotland – or she had a Scottish nanny. In part of this book someone says that they "put something by in the dresser" – meaning they put something away in the dresser. Very Scottish.