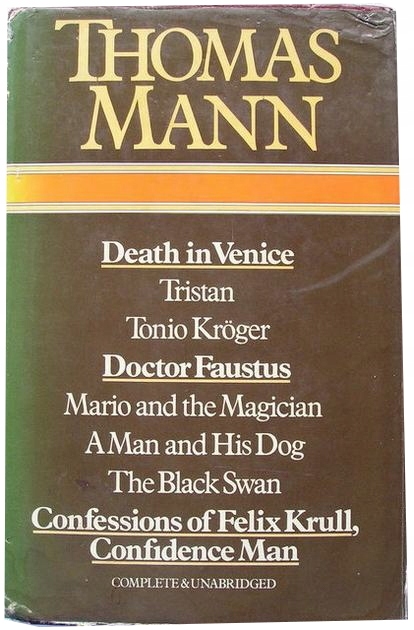 Death in Venice by Thomas Mann was first published in 1913 and translated from the German by H.T. Lowe-Porter.
Gustave Aschenbach is a successful hard working writer, living in Munich. He had been allowed to add the word 'von' to his name, almost raising him to aristocracy. In his younger years he had done a lot of travelling but that had tailed off as he got older and he had hardly left Munich in recent years. On impulse he decides to travel to Venice, a place he had loved in the past.
This is a tale of obsession as when Aschenbach reaches his hotel in Venice he is entranced by the sight of a young blond boy, beautiful and elegant and obviously the only much pampered boy in his family which consists of three older sisters and their mother. Aschenbach can hardly take his eyes off the boy who is dressed beautifully in contrast with his very plainly dressed sisters. The mother is festooned with 'well-nigh priceless pearls'. The family comes from Poland and Aschenbach eventually discovers that the boy's name is Tadzio.
Aschenbach gets into the habit of settling himself on the beach where he can have a good view of the family, and his interest is eventually noticed by the mother who calls Tadzio away when he strays too close to where Ascenbach is sunning himself. When Aschenbach can't see them he walks aroudn the city looking for them, and even follows them around when he finds them.
During all this time visitors are beginning to leave Venice and aren't being replaced by others, but Aschenbach is too steeped in his obsession to notice. Eventually even he can't ignore the frequent wafts of carbolic acid that he can smell in the air, but the hoteliers and businesses are in denial, they don't want to lose the few customers who haven't already left. Too late Aschenbach is told of the Asiatic Cholera which had begun in the delta of the Ganges and wafted its way through many countries before reaching Italy. Plus ca change – as they say!
This little novella is the first that I've read by Thomas Mann, but won't be the last as he's such a good writer but I must admit that I started reading this one in bed and decided that it wasn't bedtime reading, so I started it again in the morning and read it in a couple of sittings. I still felt that it didn't really get going until Aschenbach reached Venice, which didn't take long.
I'm assuming that everyone has seen the 1971 film of the book starring Dirk Bogarde, which is why I've recounted the whole story, but it's really just the bare bones of it and it didn't matter that I already knew the ending, it's in the title after all. The film is a bit different though.