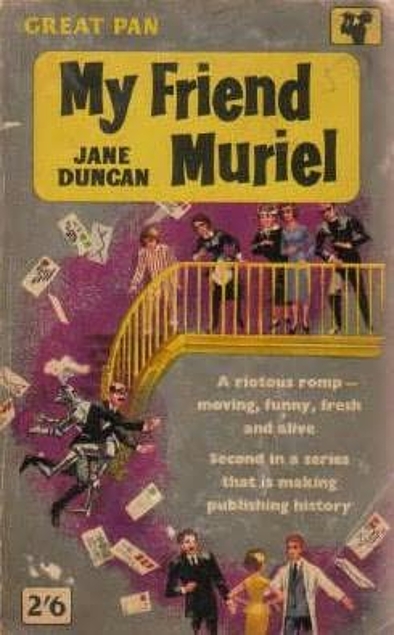 My Friend Muriel by Jane Duncan is the second book in the author's 'My Friends' series. It was first published in 1959, which was a very good year by the way! This one was a perfect read for these Covid-19 times, it's a great light read with plenty of laughs. I took this book out to the garden to read on a glorious day last week and it grabbed me immediately. It's a first person narrative with Jane Duncan – or Janet Sandison as she is in the book telling how she met her friend Muriel who is definitely a bit of an odd bod. It begins in 1930 when Janet was a student at the University of Glasgow and she was lodging with family friends in a village on Clydeside between Clydebank and Dumbarton, which just happens to be where I grew up (see my header photo – it's Dumbarton). So I knew exactly where Jane was. On her commute to uni every morning she could see No 534 being built at John Brown's shipyard, the ship was of course eventually named Queen Mary.
It's just the wrong time to be graduating from uni as there was just about no chance of any graduates getting a job due to the Great Depression. Janet is faced with having to go back to her family home in the Highlands, but before that happens she is troubled for the first time in her life with toothache and while waiting in the dentist's waiting room she peruses the magazines. An article titled Are You Lonely catches her eye and the upshot is that she writes off to a given address to get a pen friend from the writer of the article Mrs Whitely-Rollin. This eventually leads to an offer of work in England where Janet meets Muriel who pops up off and on throughout Janet's life.
This book takes Janet from the age of 20 to her mid thirties so it includes WW2 when she joined the WAAF, working in the Operations Room and getting engaged from time to time as she was the only female there! There were lots of familiar situations in this book, for me anyway. There's even a character called Alexander Alexander and you might think that is an unlikely name for anyone to be given, but I knew a man with that name, although he was called Sandy Eck by everyone – both of those being diminutives of Alexander.
The blurb on the front says: A riotous romp – moving, funny, fresh and alive. Second in a series that is making publishing history.
Back in 1959 this book cost all of 2/6 which if you aren't old enough to remember pre decimal coinage is 12 and a half pence. It cost me all of £1.60 on our February trip up to Aberdeen (which must have been our last trip away from home) it was money well spent.