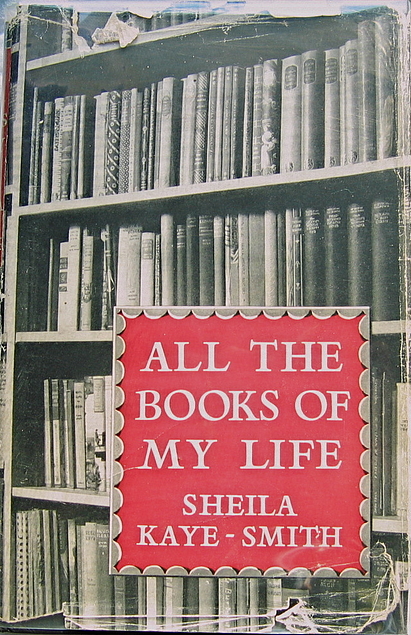 I must admit that I hadn't even heard of Sheila Kaye-Smith when I spotted her book All the Books of My Life in a secondhand bookshop in Rye, Sussex last year. It was a book about books though so I decided to buy it anyway. Sheila Kaye-Smith was (according to the Sheila Kaye-Smith Society) counted as one of the leading novelists of the first half of the twentieth century. Her books were set in rural Sussex and Kent and at least one of her books became a best seller. She seems to be just about forgotten now though. This book was published in 1956.
I found it to be an interesting read, despite not having heard of a lot of the authors mentioned. As you would expect she begins with the books that she read as a child, and she was lucky in that she and her sister inherited the books of their much older step-siblings as both their parents had been married before. Quite a few of the books mentioned are French as she learned French from a nursemaid they had (she sounded like a nightmare and had tantrums!) but they did learn French, I doubt if many readers would know of those books. But I did discover – or was reminded – that Hans Christian Andersen wrote about a Gerda and Kay which is presumably why the author Rose Macaulay called the son and daughter in her novel Dangerous Ages by those names.
One of the chapters is titled Sad Pageant of Forgotten Writers and I was interested to see that she names May Sinclair as possibly being among them. I assume that Sheila Kaye-Smith would have been very surprised if she could have zipped forward 64 years and seen that the British Library had just re-published one of May Sinclair's books.
Anyway, this is an interesting read although the chapter towards the end titled Speaking Personally wasn't of much interest to me as it was about the religious books she had read which had culminated in her converting to Roman Catholicism. Bizarrely when she stopped reading the Bible and started reading books about saints by Catholics she 'turned'.
In the chapter titled Gaps on the Shelf she talks about Ivy Compton-Burnett, a writer I have never been able to get on with. Kaye-Smith felt the same for years but she eventually came to love Compton-Burnett's writing. I think I've only read one of her books and I was so annoyed that the whole thing seemed to be dialogue, I don't think I will bother to persevere with her as I need locations and descriptions too.
All in all this is an interesting read, one of those books that add to any reader's growing list of authors to try – not that we need to add any more! At least I will give Sheila Kaye-Smith a go if I ever stumble across any of her novels.