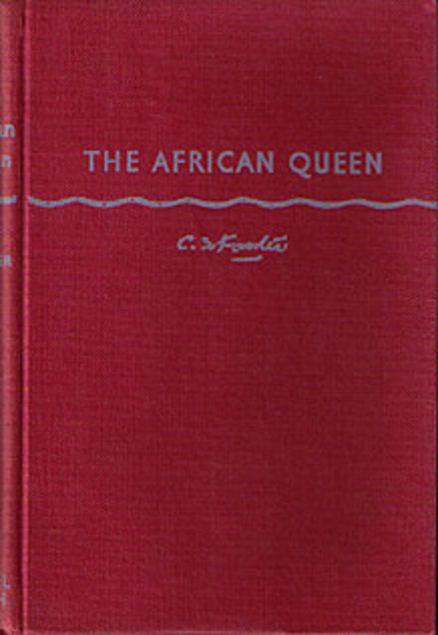 How many times have I watched the 1951 film The African Queen? I have no idea, but there are definitely bits of it that I could act myself, you're probably the same. Anyway, I hadn't realised that it was based on a book by C.S. Forester which was published in 1935 so when I saw the book in an Edinburgh secondhand bookshop recently I snapped it up.
I really enjoyed reading this book but all the way through I was comparing it with the film, and as a fan of Humphrey Bogart for me the film just pips the book. In the book the character of Allnutt is a whining cockney, so there was just no way that he was going to trump the character of the Bogie version of Allnutt. The setting is of course German East Africa during World War 1.
There are quite a lot of differences in the storyline, because I suppose that the early 1950s film industry wasn't going to shock their audiences with a Katherine Hepburn in the shape of Rose (sister of a missionary) who very quickly has a sexual relationship with Allnutt as she does in the book. I don't recall that in the film Rose realises that she had always been under the thumb of either her father or brother and had never been able to make decisions for herself. She found freedom with the death of her brother who had been a miserably strict Christian missionary.
There's a lot in the film which is faithful to the book, the whole journey in The African Queen is as it was in the book, until close to the end which is very different, but the ending would definitely not have got past the prudish sensibilities of the times. I prefer the book's ending. The writing makes it so easy to imagine the surroundings, even if you hadn't seen the film I think. The film features large African animals, just because they could I suppose, but they don't appear in the book which sticks to the mosquitoes and leeches which are shudderingly horrible enough.
Several times Rose is described as being only slightly below Charlie (Allnutt) socially, something which was important at the time I suppose, but in the film she seems so superior. For once I found the film more enjoyable than the book, and not just for Humphrey Bogart!
You can see a short trailer for the film below, if you're interested.