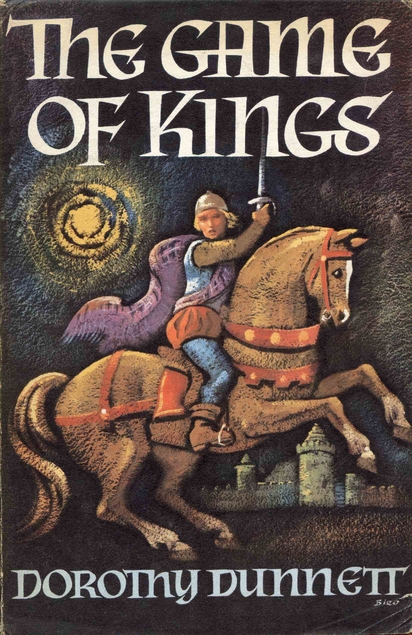 The Game of Kings by Dorothy Dunnett was first published in 1962 and it appears in the 100 Top Scottish Books. It's the first book in a series of six which are described by many as historical romance but I would say that romance keeps a fairly low profile, which is fine by me.
It took me about five days to read this book and it isn't really one for bedtime reading, you have to concentrate on the storyline which has plenty of twists and turns. Quite early on I thought to myself that Dunnett's writing reminded me of Sir Walter Scott, very wordy and convoluted. Then it dawned on me that she was writing about Scott's ancestors, he was apparently very proud of his Border riever antecedents and Will Scott and his father Wat (Walter) feature quite a lot in this book.
The Scottish Border country in the past has been notorious for violence and double dealing, with the land constantly being fought over and changing hands from Scots to English. The upshot of all that is the people living in the Border country tended to be on neither side, except their own, so the Border families were well known for being on neither side and just looking out for themselves.
The year is 1547, it's a time which is known as The Rough Wooing when Henry VIII was determined to arrange a marriage between his son Edward and the child Mary Queen of Scots and prevent her from marrying the French dauphin and thus forming an alliance with France.
It's a time of intrigue and Francis Crawford of Lymond is back in Scotland after having been a galley slave on a French boat. He's still an outlaw in Scotland as the evidence against him points to him being a traitor to his own country. He's an awkward character and in some ways his own worst enemy but he has great charisma.
I really enjoyed The Game of Kings and I'll definitely be reading the other books in the series. I especially like books which have a local setting for me and just about every place that was mentioned is known to me, with Dumbarton, especially, being mentioned a lot and that is of course the town I grew up in. I just had to imagine places as they would have been about 500 years ago, very easy when it's places like Stirling, Linlithgow and Haddington.