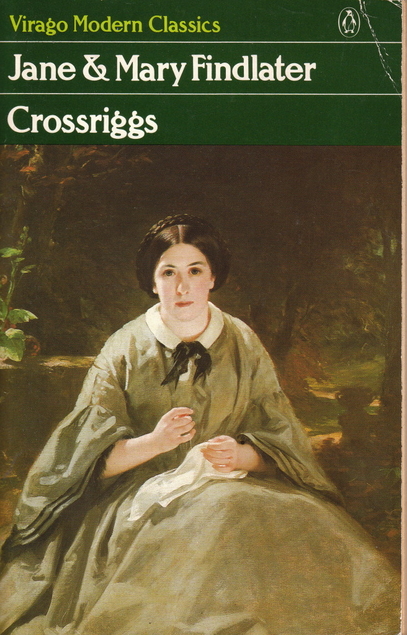 Crossriggs by Jane and Mary Findlater was first published in 1908 and it's one of those books which I've been meaning to get around to reading for years. I'm quite intrigued by the thought of two people writing a book, and I wonder how they actually went about it. I must admit that I had no idea that these Scottish sisters had been so famous in their day. They travelled to the US amongst other places and were friends with writers such as Robert Louis Stevenson, Walter de la Mare, Henry James, Rudyard Kipling and Virginia Woolf. The sisters were the progeny of a Scottish Free Presbyterian Church minister.They lived in Lochearnhead until their father's death when they moved to Prestonpans, a small town close to Edinburgh.
Crossriggs is a small town which is not far from Edinburgh by train. The Hope family live there. Alexandra Hope is a young woman who runs her elderly father's very poverty stricken household. Mr Hope is a vegetarian/fruitarian who would nowadays be described as being a vegan. He's a peace loving man who doesn't want to cause anything any harm, but although he is regarded as being very clever he is forever having crazy ideas about new ways of growing things and it usually ends up in failure and loss of money, which is just what they can't afford.
When the recently widowed elder daughter Matilda comes back from Canada with her five children it falls to Alex to slave at various jobs to try to earn money to feed them all. It never seems to occur to Matilda that her young sister is taking on all of the responsibility for the family.
Alex is a great character, what we in Scotland call 'a nippy sweetie'. She's very 'pass remarkable' and often has a sarcastic but witty thing to say about her neighbours and their appearance. However one of her neighbours is a well respected academic/writer and it's obvious that Alex is in love with him, but he is married so he's completely off limits of course.
Alex is unwilling to just settle for what she regards as an inferior sort of man and so turns down marriage proposals, to Matilda's disgust.
This book has lots of echoes of various books in it. It's similar to Jane Austen's Emma in parts. Alex is like Jo from Jo's Boys, but this is an essentially Scottish book, moral and spiritual but not to a sickly degree.
I also found it similar to O. Douglas's (also the daughter of a Wee Free minister) books although hers are perhaps a bit more light hearted and more preachy, or maybe just a bit less well regarded or dare I say it popular. The elements are the same though: A young woman looking after a load of children who are not her own, a lack of money, annoying neighbours and relatives and romance.
R.L. Stevenson said that there is a difference between the Scottish and English psyche. In England they ask you – What is your name?
But in Scotland they ask – What is the chief end of man?
This is the difference between Scottish and English literature anyway. It's probably because straightforward story telling was regarded as being frivolous, but if it had a moral and a sound feeling for what was right and wrong, then it was worthwhile.
I read Crossriggs for the Read Scotland 2016 Challenge, it's my fifth one this year, and also for the Women's Classics Literature Event and for Reading My Own Damn Books. Three down with one stone!
I was interested to see that the book is dedicated to:
Kate Douglas Wiggin and Norah Archibald Smith
two sisters,
from two sisters,
Mary and Jane Findlater.
It's a good read.