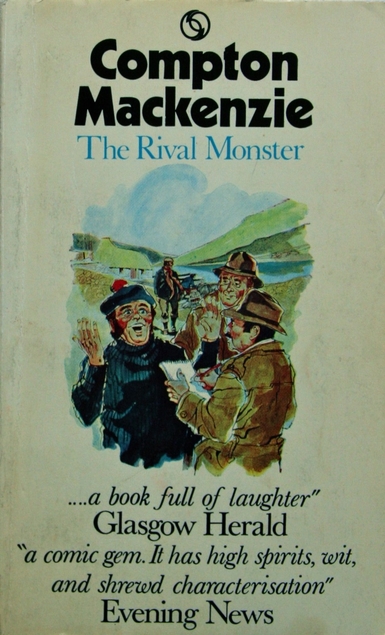 The Rival Monster by Compton Mackenzie was first published in 1952. The setting is again the Scottish Highlands and Islands, more particularly the islands of Little Todday and Great Todday, the islands made famous by the sinking of a ship full of whisky in his earlier book Whisky Galore. In fact if you intend to read these books you should start with Keep the Home Guard Turning then read Whisky Galore, then Rockets Galore. All absolute hoots.
The Loch Ness monster had been very shy all through the war when the area had been taken over by the military, but more recently there have been several sitings of a terrifying monster with enormous teeth like a hayrake. There's suspicion that the whole situation has been drummed up to lure tourists up to the islands.
Ben Nevis – the local laird is incensed because he thinks 'his' Loch Ness monster has been lured away to an island loch and he vows to bring it back to Loch Ness.
A Glasgow newspaper gets involved when a local claims that he saw the monster being hit by a flying object which is being described by the press as a flying saucer but is supposedly more akin to a flying teapot spout! It's feared the monster has been killed.
Paul Waggett, the Englishman who fondly imagines he is far superior to any of the locals is of course as delusional as ever and brings a lot of humour to the book. The whole thing is completely nutty, but very well written with Mackenzie having a wonderful feeling for the various dialects used by the characters ranging from the cockney of Mistress Odd who has fallen in love with the islands since her son married one of the islanders, to the differing Scots dialects and Gaelic phrases scattered throughout, luckily there's a glossary at the back!
I read this one for the Read Scotland 2016 Challenge.