Lady Rose and Mrs Memmary by Ruby Ferguson was first published in 1937 but it has been reprinted by Persephone Books and I was lucky enough to find it in a secondhand bookshop.
This book was apparently a favourite of the Queen as she was at that time (later the Queen Mother). I suspect that she felt very much in tune with Lady Rose, the main character in the book, as they shared very similar Scottish upbringings.
The book begins with a group of people asking if they can look around a grand house in the Scottish highlands. The old housekeeper is pleased to show them around, it's a house that has seen better days and it's hoped that new tenants will be found for it. Although the vistors are careful to let her know that they couldn't afford to rent the house, the housekeeper is still happy to tell of the history of the place, the book switches from the present day to the past regularly, but is never confusing.
Like many wealthy Scots the owners of the house sent their only child – Lady Rose, to England to be educated. As she is very much a Scot, steeped in the romance surrounding the history of the country – particularly Mary, Queen of Scots – Lady Rose is very unhappy and is always happy to get back to her beloved Scotland. The story of her life is one of ups and downs and it's an entertaining read which has been described as a love letter to Scotland. But it's about snobbery, discrimination against women and money.
One thing did puzzle me – on page 164 wee Archie says:
"Tonight at the chair, we'll have some battles where we beat the English."
"We always beat the English" said Alistair hotly.
"Not at Bannockburn."
"That was murder; Duncan says so. Wasn't it Mamma?"
Well that is obviously wrong because Scotland did famously win the Battle of Bannockburn, I suspect that what the author meant to write was Culloden or maybe Flodden. I'm wondering if that was one of the reasons that the Queen Mother invited Ruby Ferguson to Buckingham Palace, to point out her mistake!
Ruby Ferguson was an English writer but Ferguson (her married name) is a Scottish surname, so maybe she married a Scot and fell in love with the country too.
I really dislike the endpapers though, completely inappropriate for the book, from 1937 of course but I feel that another more appropriate design must have been available for that year. The design is Masqueraders and I found an image of it on the V&A site.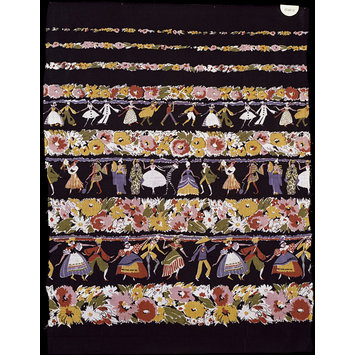 I read this one for the Read Scotland 2017 Challenge.