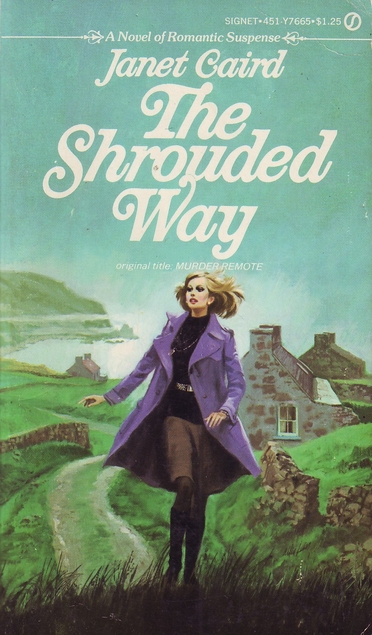 The Shrouded Way by Janet Caird was published in 1973 and it is one of the books that Peggy brought from the US for me. I have to admit that I had never heard of the author before Peggy started reading her books, which is strange as Caird was Scottish.
The Shrouded Way reminded me very much of Mary Stewart's writing, well of her adventure/mystery books, and I enjoyed the way the mystery started almost from the very beginning, with Elizabeth Cranston discovering a body in a tractor when she is driving to visit her Aunt Jenny who lives in the small Highland fishing village of Mourie.
There are some strangers in the village where over the years there has been a belief that there is a sunken boat containing treasure just off the coast of the village. The strangers include Crane Maclean, a wealthy American who is the new laird and he intends to finance the search for the treasure, promising that if they find it he will give it to the villagers for the good of the community.
All is not well though, and more villagers end up dead. Elizabeth has attracted the attentions of the laird and the school teacher who is also a new arrival in the village. But Elizabeth has her doubts about both of them.
I enjoyed this one although for me it somehow dragged a wee bit around the middle of the story, however that might just have been me rather than the fault of the book and I'll definitely be looking out for more books by Janet Caird.
I read this one for the Read Scotland 2017 Challenge.