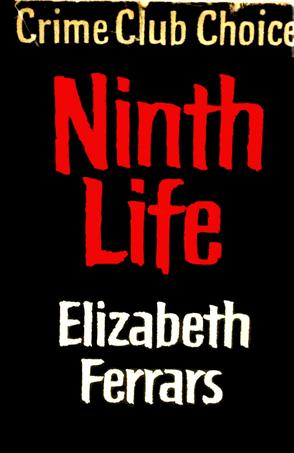 Ninth Life by the Scottish author Elizabeth Ferrars – or E.X. Ferrars as she seems to have been known in the US – was first published in 1965.
I enjoyed this one which was more of a mystery than murder mystery – for 85%-ish of it anyway.
Caroline lives in London on her own and works in an office, she's always beeen independent but when she needs to recuperate after having her appendix removed she agrees to go to Fenella her much younger married sister's house until she's well enough to look after herself again.
They have a rather fraught relationship as Fenella feels that her older sister is too domineering and she has kept Harry her husband away from Caroline so this is the first time the two will be meeting.
Harry isn't at all Fenella's usual sort, he's older than she is, not particularly good looking and has given up journalism, supposedly to concentrate on writing a book. Meanwhile he and Fenella have opened their lovely old home as a guest house.
But Fenella knows that Harry has more money than he should have. Where is the extra money coming from?
The blurb says: The brooding atmosphere explodes into violence and death. Miss Ferrars achieves a high suspense, not by fireworks or blood-baths, but by the precise observation of character and mood, and by her skill in surprising the reader at the climax.
I agree.