A few weeks ago we drove up to Peterhead so that Jack could attend a football match – which ended up being cancelled, so we decided to make the best of the situation and visited some interesting locations around the area. My friend Christine had mentioned that Slains Castle was nearby, but might be a bit too spooky, and I must admit that I had never even heard of it. There are in fact two Slains Castles – an old and a new one. We visited both of them but there's very little left of the old one and a farmer seems to be using it as a bit of a dumping ground.
New Slains Castle had a lot of re-building done over the years and the photo below shows that it ended up being given a Scots Baronial makeover at one point.
Dracula author Bram Stoker had visited the new castle as a guest in its heyday and apparently the location inspired him to use it as a model for Dracula's Castle. Sadly since those days the castle has fallen completely to ruin. In 1925 the owner decided to remove the roof to avoid paying tax on the building and as the building is practically hanging over the North Sea it won't have taken long for the weather to ravage it, but it is very atmospheric.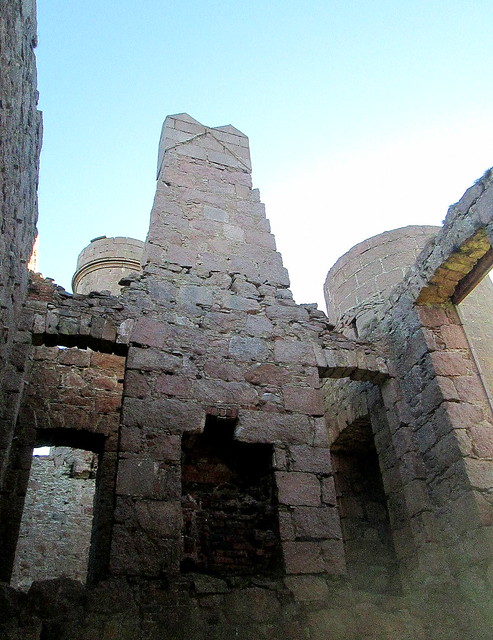 Unusually for Scotland there's quite a lot of red brick in the building of dividing walls and such, I suspect these bits were re-done in the 19th century.

You can see where the beams and joists were originally.
When we were there it was quite busy with foreign tourists and local kids. Those youngsters are always heart-stopping for me as they are fearless, it seems that if there's a cliff around then there'll be kids dangling their legs over the edge of it. This time I was amazed to see some boys aged about 14 had climbed right down to the sea – and even more gobsmacked when they disappeared behind a rock and emerged wheeling their bikes – they had ridden down there it seems!
We did climb up some of the castle stairs for a better view and to imagine what all the rooms must have been like but it does feel quite dangerous up there as because the floors have all gone you can't walk from one room to another as there's always a big gap between them, if you aren't careful it would be easy to fall down into a downstairs corridor, it's as scary as looking down a ravine.
The stairs are distinctly dodgy!

They chose a good spot for the castle though – both defensively and just for a spectacular view.
There have been quite a few accidents and strange deaths here and there were floral memorials and woven wooden things that must have been to keep witches away – and of course – red thread.
Somebody fell down the ravine below not long ago – don't go too close!
You can see more images of Slains Castle here.