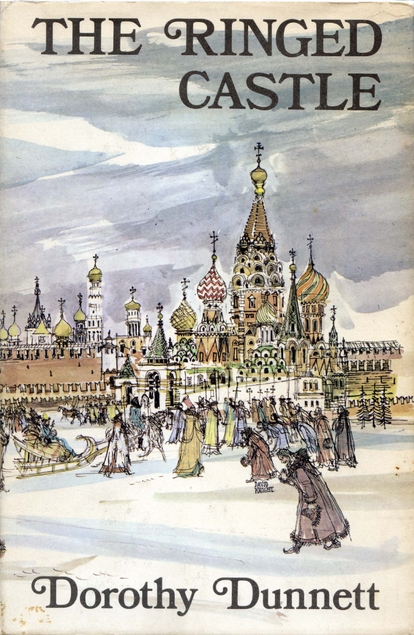 The Ringed Castle by Dorothy Dunnett was first published in 1971 and my copy seems to be a first edition. I love the dust jacket. It is of course the fifth book in the Lymond Chronicles.
Philippa has returned from Turkey. She has contracted a marriage of convenience with Lymond, the plan is they will have the marriage annulled within a few years, that should be easy as it hasn't been consummated.
Meanwhile Lymond has travelled to Russia with his band of mercenaries and it isn't long before he has gained yet another title – Voevoda Bolshoia, head of Tsar Ivan the Terrible's army. Any position that brings you close to Ivan is a precarious one as his moods and rages are a danger to all around him.
But Ivan is keen to modernise his country and to bring wealth to it through trading. Reluctantly the Tsar parts with Lymond to allow him to sail to England with ships full of goods and Osep Nepeja who is to be the first Russian ambassador to England.
In England Mary Tudor is Queen and married to Philip of Spain. She is praying to have a child and is busy having thousands of Protestants burnt at the stake as offerings to her God, presumably hoping that she'll be sent a child from God for doing her best to support Catholicism. Life in England is almost as dangerous as life in Russia.
I loved this one and went straight on to Checkmate, the last in the Lymond series.